Fr Mick Kelly SJ is urgently seeking funds to buy airline tickets so Pakistani asylum seekers can escape Thailand and resettle in other countries. Please click the donate button below to help.
Fr Mick runs The Thailand Refugee Project. He offers tangible help to 400 families who have no savings and no income, and who live with the ever present fear of being sent home or incarcerated. Unable to return to Pakistan where they risk imprisonment or worse, these refugees again face great difficulties once they reach the unfamiliar and bustling city of Bangkok.
It is illegal for refugees to gain work or for locals to employ them. Either action can result in arrest and imprisonment. Refugee children cannot go to Thai schools and families cannot access social services. These unlucky people exist in impoverished circumstances and fear being sent to the Immigration Detention Centre (IDC) for overstaying their tourist visas.
When this happens, the refugees must endure deplorable conditions of overcrowding, disease, unsanitary hygiene and an appalling diet. The separation of family members further compounds the family's stress.
The Thailand Refugee Project assesses the needs of refugee families and offers help with food, rental, education, medical and legal costs.
The ultimate aim is to facilitate their resettlement in a third country, but significant UNHCR waiting lists mean applicants wait for a long time even for a first interview.
Fr Mick Kelly SJ and his team are raising money to assist those trapped in limbo in Thailand and for airline tickets to a new home country.
You can assist by donating here
.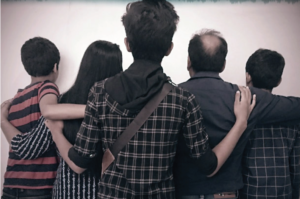 Pakistani Christian refugee Cheryl with her husband and their three teenage sons in Bangkok. It is not wise for asylum seekers to show their faces, lest they draw unwelcome attention from authorities.(Photo by Tibor Krausz/ucanews.com and story source the same.)
Cheryl's story
When teacher Cheryl M. arrived at her classroom in Lahore, Pakistan one day in 2013, there were no students there. Her surprise turned to trepidation when she was summoned to a meeting with the principal and other teachers. One teacher who disapproved of her being Christian waved a handful of pages torn from a book at her. "You did this. You desecrated our Holy Quran" he falsely accused. Others threw her to the floor and beat her badly. When someone is accused of blasphemy, locals often take matters into their own hands and kill the accused in awful scenarios. To avoid this fate, Cheryl had to flee with her whole family the same day. They flew to Thailand on tourist visas, unable to return to their home where people were still searching for them. Thai society tolerates different religions, but Thailand has refused to sign the UN Refugee Convention. This means Cheryl and her family could not be recognized as refugees. They had no official status and could not be educated, be employed, or be processed to become citizens. Cheryl's family had to eke out an existence on charitable handouts, hiding from the police and in fear of being sent to an Immigration Detention Centre (IDC) where disease is rife. Sadly Cheryl's father, who followed them to Thailand, was arrested and died in such an IDC where he could not access medication. Thanks to Fr Mick Kelly's tireless work and a Christian sponsorship program, a promising chapter has been added to Cheryl's harsh story. The family will soon be leaving Thailand for a new life in Canada.
"Anything you can help with will be appreciated …. Thanks again for your generosity and solidarity with this particular platoon of the wretched of the earth."