Our Prison Ministry project in Thailand supports men and women while they are in prison and helps them adjust to a free life after their release.
There is little hope to be found in the prisons of Thailand and we see a desperate need to reach the marginalised men and women behind prison walls. Many of these people grew up in severe poverty and committed crimes out of a desperation to survive and provide for their families. They are isolated and yearning to see loved ones. Many have lost all sense of self-worth. Together with our partner Jesuit Foundation Thailand, we are reaching the men and women in Thai prisons to share with them the love of God because we believe every person is made in His image. Prison Ministry officers visit the prisoners regularly to accompany and care for them, giving priority to the especially vulnerable such as the elderly and the sick. Thanks to generous supporters, we can provide prisoners with encouragement, hope, and strength to stand up again. We can support basic needs, like toiletries, additional food, medicine, and communication with loved ones. The project officers can also visit the families of prisoners and offer support to fund the education of their children - to help break the cycle of desperation and inter-generational crime. Even after people are released from prison, getting their lives back on track can be a huge challenge. Many have nowhere to go. Soon-to-be released prisoners are supported with counselling and preparation for integrating back into society. Backed by Jesuit Mission and our generous supporters, Jesuit Foundation set up the Emmaus House to offer newly-released prisoners a place to live and work while they adjust to life beyond the prison walls. During their stay, they can access skills training and livelihood support in areas like carpentry and agriculture to help them get back on their feet and become self-reliant. We also help people reconcile and reconnect with family and friends so they can be part of a supportive community.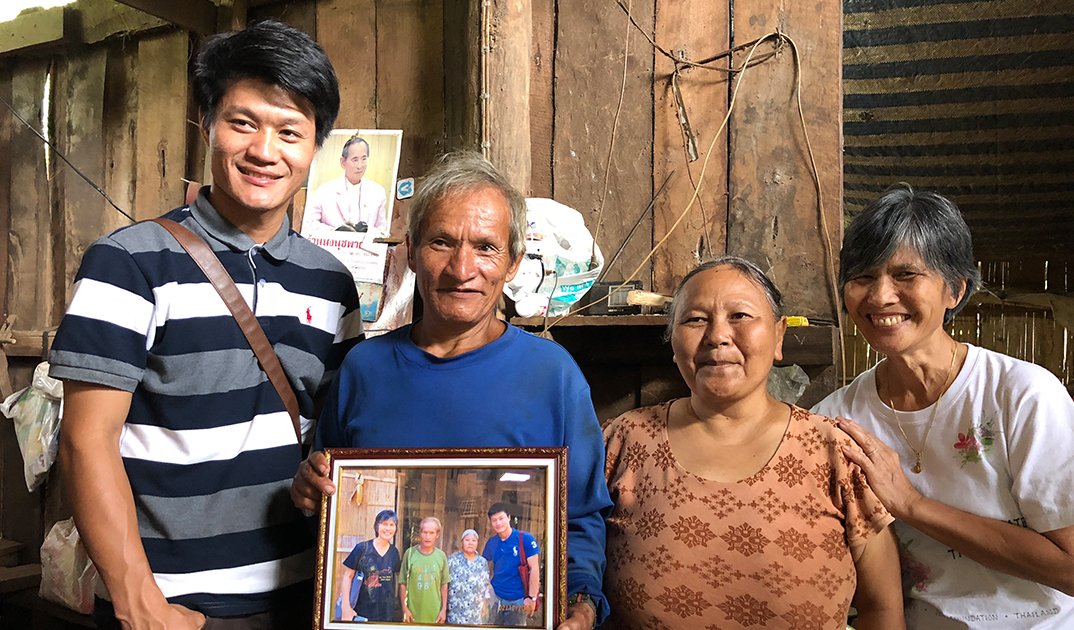 Vilaiwan "Kep" Phoktavi (right), Director of Jesuit Foundation-Prison Ministry, and her colleague bring this couple (centre) welcome news of their son, faraway in prison
DONATE
"We can welcome and give accommodation for a time to ex-prisoners and help them slowly adjust from a life in prison to the free world, to find possibilities of how they can start their new life again after many years of imprisonment."
Thank you for supporting this project to give hope to prisoners in Thailand. You are providing spiritual and practical care when there is nowhere else to turn – both within the prison walls, and for life on the outside after imprisonment.
Mr Sun's Story
Emmaus House offers newly-released prisoners a place to live and work while they adjust to life after imprisonment. Recently, we welcomed a former prisoner named Mr Sun. He stayed with us for six months to gain practical skills as part of his transition to become self-reliant living a free life. During his stay at Emmaus House, Mr Sun learnt to plant peppers, vegetables and fruits, as well as how to make compost, organic fertilisers and chemical-free insecticides. Mr Sun also worked with the centre's staff growing peppers, bamboo, galangal (a local herb) and forest trees.  They started a nursery to cultivate young plants and make their own compost.  They have also set up a chicken farm for egg production and started beekeeping. This is a wonderful demonstration of people working together and helping each other – to prepare former prisoners like Mr Sun for integrating back into society with dignity and self-esteem.
"We were happy to have Mr Sun spend time with us.  Now he is back with his family and we wish him good luck!"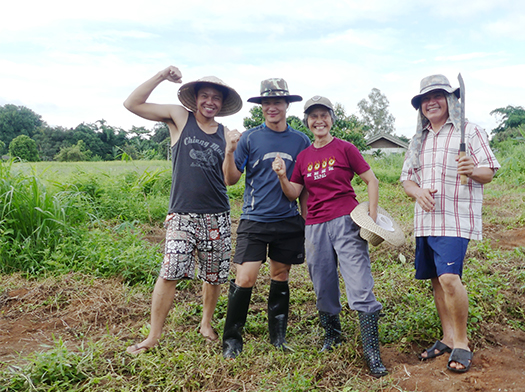 Emmaus House has a fully sustainable farm where freed prisoners grow over 25 crops including coffee, eggplant, bitter gourd and papaya.