Livelihood and vocational skills training
Training in vocational skills and self-employment is helping hundreds of refugees in Malawi, Angola and Zimbabwe to live free lives.
Many countries in the Southern African region host considerable numbers of people who are forcibly displaced, seeking asylum and are refugees. In fact, the developing world hosts 86% of the world's refugees, this is an increase from 60% 12 years ago. High percentages of refugees have been exposed to violence. The resultant physical and psycho-social distress is aggravated in their destination countries by the restrictions placed upon them, either by governments which enforce encampment policies, or by members of the host populations, many who are themselves struggling, who resent or try to exclude refugees from accessing employment and other services. In camps and urban areas alike, refugees overwhelmingly remain poor, are highly vulnerable to exploitation and injustice, and are often forced to resort to inappropriate survival strategies. When adults don't have opportunities, their children suffer. Extreme poverty can force children into child labour and increase their vulnerability to violence and sexual exploitation. Vocational training is essential so adults are provided with skills that aid livelihood activities and give children the time and ability to attend school. People can spend an average of 20 years in the camps, so it's essential that adults are empowered to participate in community groups and pursue socio-economic activities. Despite their phenomenal resilience and determination, with so much upheaval, trauma and ongoing uncertainty, refugees struggle with hope, self-esteem and future planning. Jesuit Mission is a long-term partner of JRS Southern Africa's projects in four countries in Southern Africa – Malawi, Zimbabwe, Angola and South Africa. In 2018, we are supporting JRS Southern Africa's livelihood projects which aim to improve the living conditions of, and to create opportunities for, refugees and asylum seekers living in the camps in Malawi and Zimbabwe, and in urban communities in Angola. The projects train participants in small-business and technical skills to increase their chances of self-employment or employability.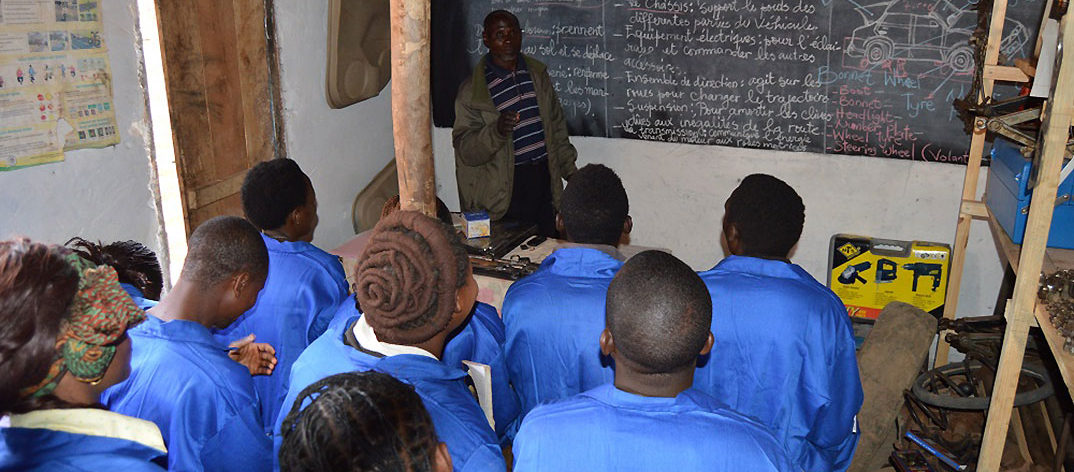 Students at the refugee camp are able to learn practical skills through the livelihoods program.
Program details
The livelihood and vocational skills training projects empower refugees and asylum seekers with skills to find employment and with more opportunities to lead full lives. We aim to increase the income of refugees and asylum seekers so they can provide for their families basic needs, such as food, clothes and school materials. In Malawi, the skills training options include sustainable agriculture/farming, teacher training, psycho-social casework management, life skills and basic computer literacy. Graduates of these learning programs then attend business management and entrepreneur skills training. There is also a training program for learning English as a Foreign Language. In 2018, the project aims to reach at least 560 refugees in Malawi's Dzaleka refugee camp.  In Luanda, Angola the vocational skills training includes options for cookery, pastry-making, tailoring, interior decorating, hair-dressing and computer courses to 100 asylum seekers and refugees. In 2018, the program aims to reach at least 100 refugees, many who are survivors of sexually-based violence. In Zimbabwe's Tongogara Camp, the project aims to assist a group of 60 elderly people with skills such as beadwork, traditional mats & brooms, basket weaving and pottery. The project also includes counselling sessions and provides a platform for participants to come and share their life experiences. Currently there are no activities tailored for elderly people in Tongogara and it is almost forgotten that they exist within the camp. JRS is the only organization offering vocational skills training in Angola, Malawi and Zimbabwe. Since JRS started offering vocational skills training and business to refugees and asylum seekers in camps we have witnessed a higher growing economy as well as interaction between refugees and local populations. Many of the tutors and staff employed by JRS Southern Africa are also refugees, creating further opportunities for better futures.
John's Story
In 2008, John fled the horrors of decades-long conflict in the Democratic Republic of the Congo (DRC). The DRC is one of the world's most dangerous and war-ridden countries. There, conflict lacerates the spirit of vibrant communities; for many, violence is a precious source of income and a way to survive.   Before escaping to live as a refugee in Malawi, John studied to become a mechanic. After five years of training, he opened his own repair shop, employed 15 staff and began running a successful automotive repair school. But in 2008, when conflict threatened the life he had built for himself, John fled to Malawi, leaving everything behind. Of all that he has lost, John's deepest regret is for the people he feels he has abandoned: the trainees he could not mentor, the staff he could no longer employ, and those families whose livelihoods depended on him. John has been living in Malawi's Dzaleka refugee camp for over nine years now. Here, he has built a full life for himself and is empowering a new generation of mechanics and ambitious local business people.  Thanks to JRS Southern Africa, John has been able to rebuild his life. Today John runs a successful business and mechanics' training school in Malawi's Dzaleka Refugee Camp. Through the JRS Vocational Skills Training Project, John runs a three-year course that supports young refugees to find employment or start their own business.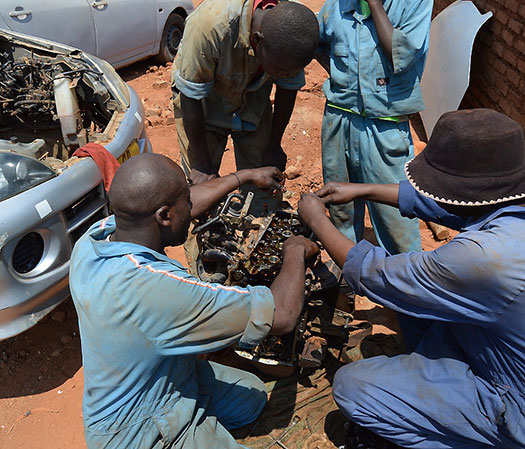 "Now, many young people have the skills I have; now they are able to create a future for themselves."
Our programs could reach many more people through your generous financial support. Thank you for accompanying us on our mission.