Loving Care Program
The Jesuit-run Loving Care Program provides holistic care to adults and children living with HIV or AIDS in China.
In February 2013, China announced that 98.99% of the rural population (10 of the total) live below China's national poverty line of RMB$6.3 a day (AU$1.27) (The Economist, Feb 2013). This is below the international poverty line. Although only 43% of China's population live in rural areas, this equates to over 500 million people. Over 30 years ago, Spanish-born Jesuit, Fr Luis Ruiz SJ, first encountered persons affected by leprosy (PALs) in Taikam island, Guangdong province in China. This first encounter was the beginning of Ricci Social Services, a social services network created by Fr Ruiz to bring relief, dignity and social justice to the poor and marginalised people in Mainland China and Macau. Since then, Ricci Social Services has reached many of the most remote places in China to provide fellowship, care and love to some of China's most vulnerable people living with Leprosy in isolated locations, and others living with HIV or AIDS. With support from our supporters in Australia we have partnered with Ricci Social Services for over 13 years. In 2018, Jesuit Mission is supporting the Loving Care program in Hunan Province. People living with HIV and AIDS in Hunan Province are provided with palliative hospice or home care through the Loving Care program. There is no other centre like this in the Province. This program is run in coordination with the local government Centre of Disease Control and in partnership with the Providence Sisters. The sisters are the primary caregivers.
Program details
The goal of this program is to work together with the local government, the local Church and other NGOs to heal people who have faced discrimination, harm, neglect and abandonment because they may have HIV or AIDS. The program helps people living with HIV and AIDS, their families, and broader society to be aware of their dignity and value, and supports them individually and as a community to rebuild their relationships. The centre offers a community environment where patients can receive hospice care, or short- or mid-term care to help them recover their health and live in dignity. Children living with HIV and AIDS in rural China face significant discrimination and stigma in their home villages and are often not welcome in their local school. The centre provides a safe family environment that will help rebuild patients' integral health, access to education, and restores their relationship with society. Once children's health has improved, the program provides follow-up outreach care and support to ensure children remain healthy and are partaking in school.
 "Year after year, you have helped us to continue this journey to the frontiers and to the margins of humanity, being with and serving those in need, learning from them, forming community with them. Nothing of this can be done without your friendship and support."
Mr Yin's Story
Mr Yin was admitted to the Loving Care Centre, in a comatose status with high fever for more than 40 days. He was a drug addict. He says the most profound finding for him in Ricci Social Services Centre was that "there is still Love in this World". Mr Yin had already given up and refused to take any antiviral drug when he first arrived. He was only willing to start his treatment again after the staff at the Centre consoled him for hours. Mr Yin says he used to be the most malicious guy among all those who lived at the centre, especially amongst drug addicts. But now, he knows he is loved with all the care and compassion from the sisters every day. For Mr Yin, the Loving Care Centre is his home now. The sense of belonging and the responsibility in this family gradually drove him to change his way of living. He is now more than 50 years old and last year, he managed to stop taking methadone (the heroine substitute). He finds it is always a great blessing everyday he can wake up in the morning. Mr Yin, and the staff say if it was not for the centre, he would have died long ago. At the centre, he met his wife. She is also an HIV patient. Her patience and acceptance changed him a lot. He liked to tease that if they were married from the very beginning; they might have lived as a normal and happy family. Therefore, he cherished very much this "half-way" serendipity. This couple do not care how long they could live together, but the quality of their sharing on this journey. They know very well they have each other. Both of them are now working at the centre workshop producing handmade soaps. They also play key roles in taking care of the children and other patients at the centre.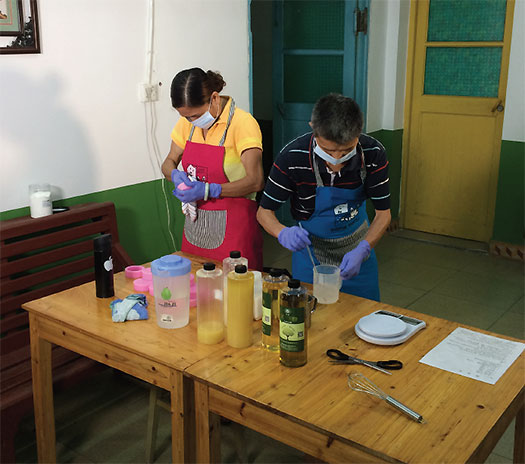 "Mr Yin feels he is beloved like a child in the family. This love makes him feel safe, helps him grow and lets him transcend… He gives thanks to all those friends who help him, even though they don't know him. These benefactors with love are the most precious angels in his life."
Your generous support will help people who have been marginalised from their communities regain a sense of belonging and hope for the future.