Show them that their lives are precious.
Please help vulnerable people marginalised by chronic illnesses like HIV and AIDS to find new hope, dignity and vital companionship.
Every one of God's children is precious. No one life has more importance than another, yet all over the world people who are already burdened by poverty are being pushed even further into the margins by major illness and disease. This is a great tragedy for our human family. When we see that our sisters and brothers are excluded from their communities and denied their basic rights because of illness, Jesuit Mission seek out opportunities to provide fellowship, friendship and kinship to ease their burden. In rural China, where around 500 million people live below the poverty line, education about HIV and AIDS is minimal. In these communities, an HIV or AIDS diagnosis has such stigma attached that newborn babies and infants are abandoned, while adults are shunned and cast out. But thanks to supporters like you, Jesuit Mission can provide care and companionship to people bearing the burden of rejection, exclusion and discrimination. At Loving Care Centre in Hunan Province, since 2006 we have been able offer refuge, medical care and hospice care to local people living with HIV and AIDS.
"We suffer from discrimination in society and can't find work. It's very hard for us to do anything at all. [Loving Care Centre] not only cares for our livelihood and our health, but also for our mental and spiritual welfare."
The Loving Care program is run in partnership with the Providence Sisters. The Sisters are the primary caregivers at the Centre and provide extraordinary care for around 15 adults and five children at a time. Without fear of judgement, these patients can find peace and rebuild their dignity. Each day is filled with love, hope and activity. Sometimes the compassionate care they receive at the Centre is enough to help patients recover their health and re-join society. Other times, their journey ends at the Centre, in a dignified death, not one of loneliness, but tended by loving companions.
DONATE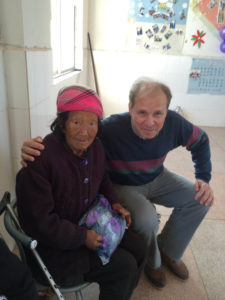 Fr Fernando with one of the program participants.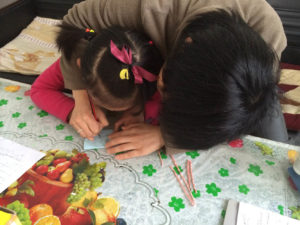 With family dignity preserved, parents can teach their children in an atmosphere of encouragement and love.
Please, put your faith into action today and help Jesuit Mission to continue to care for excluded, vulnerable people at the Loving Care Centre. With you by our side we can  provide vital companionship, care and love to our precious brothers and sisters pushed to the global margins.
Your gifts can create real change for our precious brothers and sisters in China:
$60 can provide a month's excursions and extra-curricular activities for a child in the Loving Care Program
$125 can enable a carer from Ricci Social Services to attend a training workshop
$300 can enable a child living with HIV to attend the Youth Summer Camp
$420 can provide a year's worth of daily necessities such as schooling, clothing and medical expenses for a child in the Loving Care Program
DONATE
Please make your kind, tax-deductible donation today to help provide vital support to vulnerable people who have been discriminated against and marginalised because of diseases like HIV and AIDS.
"We are not just having compassion for people who are suffering. The world would be different without them… Their presence or their absence makes a difference."