As the coronavirus pandemic ravages vulnerable communities and lockdowns take away livelihoods, please help us deliver immediate support – in whatever form necessary – wherever the need is greatest.
"We were surprised by an unexpected and angry storm, but we realised we were in the same boat. In this boat we are all like the disciples who speak with one voice and, with anguish, we say 'we are lost'. We also realise that we cannot go on our own, but only together."
- Pope Francis, March 2020
The coronavirus pandemic has shaken our world and disrupted life in almost every corner of the globe. This is a crisis unlike anything we have seen before.
While this is a truly testing time for all of us, our already marginalised sisters and brothers living overseas are set to be hardest hit by this pandemic.
As the crisis unfolds many who are living on the brink now, will experience extreme hardship as their communities are ravaged by the virus and lockdowns take away their jobs and livelihoods.
Please, help people in desperate need to survive this crisis.
Your contribution to the Emergency Action Fund will help ensure our local partners can act quickly and effectively to deliver immediate support – in whatever form necessary – wherever the need is greatest.
DONATE
Although it is a very challenging time for everyone in Australia, we are fortunate to live in a country with a strong health care system, government support and appropriate measures in place that will help control the spread of this deadly virus.
This is not the case for vulnerable people living in the global margins. In our partner countries:
- People living in slums, prisons and refugee camps cannot take protective measures such as physical distancing or self-isolation.
- Lack of adequate sanitation and clean water in vulnerable communities makes basic measures like handwashing impossible.
- Impoverished people and communities have no means to purchase or access protective items like masks, hand sanitisers or gloves.
Without intervention, the virus is likely to spread rapidly and decimate poor communities.
Additionally, lockdowns mean job losses, especially amongst vulnerable people who most often work as unskilled, casual or day labourers.
This will have dire consequences for our sisters and brothers living day-to-day who'll be left with no income and little (if any) savings to survive the crisis.
Jesuit Director of the Thingangyun Slum Project in Myanmar, Fr Amal reports: "We are getting ready for the looming challenges that will come to the people of this poor country. We hope and pray God will protect all of them. Lockdown will be a disaster in a country where 70% of the people are either self-employed or in the informal sector."
Fr Francis Marian SJ is in Hazaribag, India coordinating a team of staff and volunteers to distribute food and supplies to the most vulnerable people in nearby villages.
"We're desperately trying to distribute food to people who need it most and we've made 500 masks to limit local transmission of the virus"
– Fr Francis Marian SJ
Watch a 3-minute video on the COVID-19 crisis in India and how the Jesuits are helping poverty-stricken communities, featuring Fr Bob Slattery SJ and Fr Francis Marian SJ.
DONATE
and help the poorest of the poor to survive this crisis.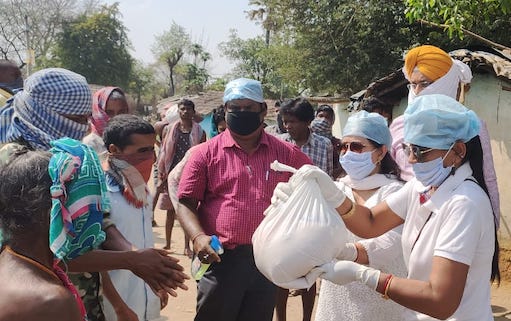 Your vital contribution to our Emergency Action Fund could help provide food for those who would otherwise go hungry; shelter and protection for those without a home and medical care for the sick.
As this crisis unfolds Jesuit Mission and our partners will be continually adapting and responding to the needs of vulnerable people. In some cases, our local communities will be best served by the continuation of existing projects and programs. Sadly, poverty and injustice are immune to the virus and continue unimpeded.
In other areas, such as refugee camps in the Asia Pacific region, our most effective work could be to provide vital masks, hand sanitiser and disinfectants to help stem the spread of the virus.
Please, make your tax-deductible donation to the Jesuit Mission Emergency Action Fund today
DONATE