Help give young people confident voices and better futures.
At Loyola College in Timor-Leste, there is cause for special celebration. Funded by the generosity of Jesuit Mission supporters, 104 inspiring Year 12 students are set to become the College's first ever graduating class. For the students who attend the Jesuit-run secondary school, the opportunity for a quality education is truly life-changing. These young people are growing up in one of the most disadvantaged countries in the world. We are compelled to put our faith into action to create change in Timor-Leste. With the support of compassionate people like you, we are helping to rebuild the country's secondary school system and giving as many young people as we can, access to outstanding education.
DONATE
This is the largest and most ambitious project the Jesuits have undertaken in Timor-Leste. Pivotal to this generation-building project is Loyola College, which is achieving excellent results with its rigorous approach. Directly adjacent to the school, is the teachers' training institute, established by the Jesuits to address the critical shortage of qualified teachers. Through these Jesuit education institutions, the young people of Timor-Leste can build a path out of poverty and create a better future for themselves, their families - and their country.
"School teaches us to be good people, to be responsible, to be compassionate, to work together as a team and work for others."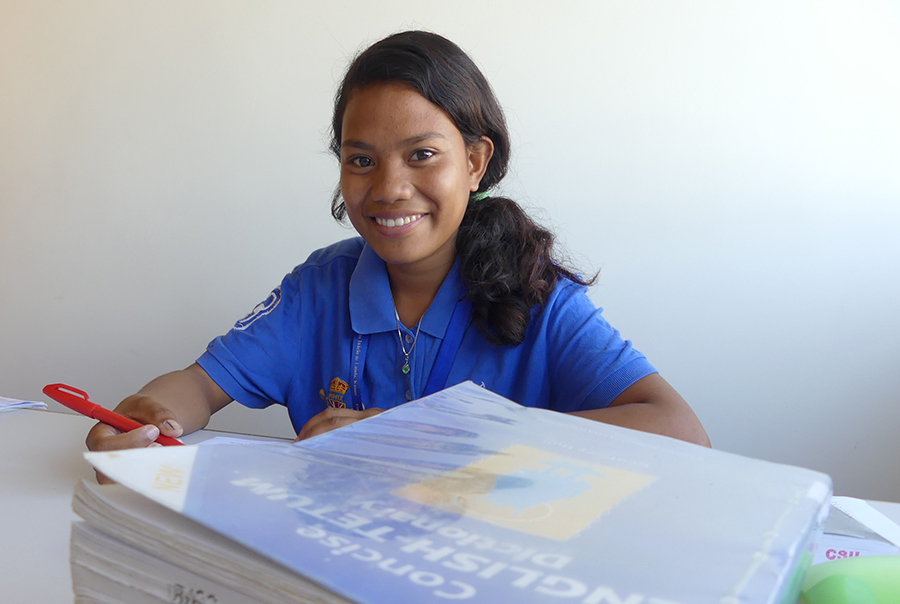 Alex would have been a farmer without your help. Now she plans to be a judge and bring justice to the oppressed in Timor-Leste.
Alex, 17, is part of Loyola's first graduating class. She is one of nine children from a poor family, who live in a rural village in the mountains. After studying with tireless focus, she is now graduating with excellent grades, and has her sights set on the future. She says:
"The school has changed me. It has taught me to be a good person, and to be brave. Before I was shy. Today, I can speak before other people."
Having access to a Jesuit education has opened a world of new opportunities for Alex. Instead of joining her family farm after school, this inspiring young woman is thinking about how she can best use her confident voice to help her country grow.
"At Loyola, I have learnt that more than becoming rich in the future, I also have to serve and care for other people, especially the poor" says Alex. "In Timor-Leste, the rich are favoured, the poor are easily punished. Now I want to become a Judge because there is a lot of injustice happening in my country. I want to serve justice to all, fairly and justly."
DONATE
In celebration of the graduation, the students have reflected in their own words on their school experience and the many transformative moments. They are truly grateful to you, our Jesuit Mission companions, for the bright futures that now lay ahead of them.
Click here to read their inspiring stories and see how they've transformed.
Education has the power to change lives, but without the kind support of people like you, the students of Timor-Leste will not be able to complete their schooling.
Please put your faith into action today and help provide quality education to young people who would otherwise miss out. 
Your gifts can create real change for the young people of Timor-Leste:
$60 will provide transport to and from school for a student for a whole month
$160 will provide six months of nutritious lunches for a student at Loyola College
$400 will cover a one year subsidy for one student to attend Loyola College
$1,350 will subsidise a student for one year of their secondary teaching degree
DONATE
Please make your kind, tax-deductible donation today to help give young people confident voices and better futures.