Imagine being forced to flee your home and say goodbye to your loved ones – never knowing if you'll return to see them again. Now, imagine being just 11 years old, like Nina. Displaced children are amongst the most vulnerable people in our global family. Please donate today to help our local partner Jesuit Refugee Service (JRS) Europe welcome, protect and provide ongoing support to children and families as the brutal war in Ukraine continues.
DONATE NOW
"Before, it was beautiful in Odessa. And I was so happy." – Nina (11) was forced to flee her home in the Ukraine with her mother and younger sister (3)
For more than a year, the war in Ukraine has been forcing innocent children like 11-year-old Nina to flee their homes, leaving loved ones, friends and everything they know behind.
For Nina, and thousands of children and families like hers, life changed overnight. Being so young, she finds it hard to put into words the fear she'd felt when the war on Ukraine started, but she remembers it vividly.
"It was very early in the morning at five o'clock. Right away, we went with the family to a village outside the Odessa region where it was safer," she says
Irena, Nina's mother recalls:
"For almost a month there was no light, constant sirens and explosions near the city. We hid with our children in a room with no windows."
The family made the difficult decision to leave Ukraine, saying heartbreaking goodbyes to Nina's grandfather and great-grandmother who thankfully live in safe rural villages, it was heartbreaking to leave them behind.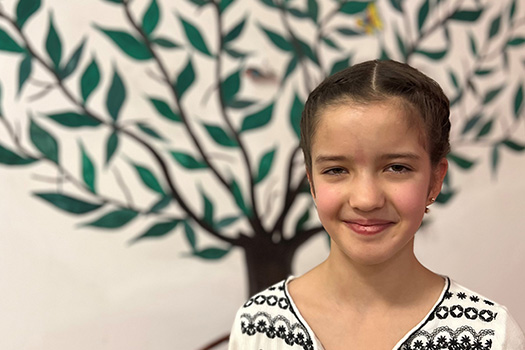 "We went by car. Nina told me simply. 'It was a long trip'."
Nina, Irena, her father (who lives with a disability) and her younger sister initially travelled to Turkey, then Bulgaria. Without support, they felt lost, isolated and afraid. Desperate to find a safe haven, Nina's mum spoke with other Ukrainian refugees who had been assisted by JRS Romania.
Thanks to the generous contributions of people like you to our Emergency Action Fund, JRS Romania was there with open arms and practical support to welcome Nina and her family.
Please, make an urgently-needed contribution to our Emergency Action Fund.
Your gift will help JRS offices across Europe provide immediate care and ongoing support to vulnerable children, like Nina, who've been forced to flee their homes in Ukraine.
DONATE NOW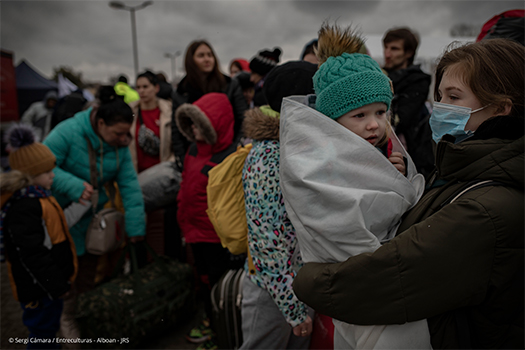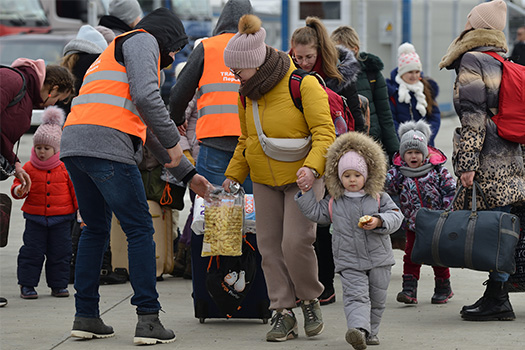 Every gift to the Emergency Action Fund brings hope and healing to children and families displaced by the brutal war in Ukraine.
In the first instance this includes immediate, life-sustaining relief such as:
Emergency & transitional accommodation
Meals, food parcels & food vouchers
Financial and mental health support
Activities for both adults and children
Then, long-term support and accompaniment including:
Support to secure long-term accommodation
Education opportunities
Livelihood and employment support
Psychosocial support
Healthcare and legal assistance
And, ongoing accompaniment to integrate into their new country
With kind people like you by their side the family are beginning life again in Bucharest.
"It [has been] very difficult psychologically. But we are trying to create a full life for ourselves as much as possible," says Irena.
The family has now settled into a rented apartment, and along with other Ukrainian students, Nina attends a Jesuit-run education hub founded by JRS Romania, where she can continue her education.
"[Now], Nina really likes Bucharest. Her psychological state has stabilised, with help from a psychologist," says Irena and Nina herself agrees.
She has started the journey to healing and has even begun to look towards a brighter future.
"I want to be a chef," she says.
Your compassionate gift today will bring tangible support and loving accompaniment to more children and families whose lives have been torn apart by the Ukraine war.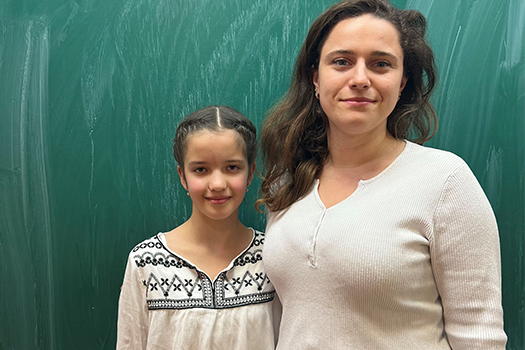 $60 could provide basic hygiene kits for 3 families fleeing Ukraine
$150 could enable a Ukrainian child to attend school (clothing and school materials)
$675 can provide one months' temporary accommodation for a Ukrainian family
Please, make your tax-deductible donation to the Jesuit Mission Emergency Action Fund today
DONATE NOW