The Primary Teachers Education College that has been in operation since 1958 is expanding to include a Bachelor of Education course to train secondary school teachers.
The present Primary Teaching Training Institute in Hazaribag, India began in 1958 with just 15 students. With recognition in 1997 from the National Council of Teacher Education, the course has grown and now offers 100 places each year. It is recognised in the state for its high-quality program that has positive cumulative effect.  For the last 60 years, 100% of its students have passed the program and became teachers throughout the Jharkhand state. The government has now directed the Jesuits to expand the college to a composite campus that offers more than one teacher training program in order to continue its operations. This led to the expansion project to offer a Bachelor of Education program which will train teachers for secondary schools. The construction of the new building that commenced in December 2017 was completed at the beginning of 2020 to welcome the new students for the new semester.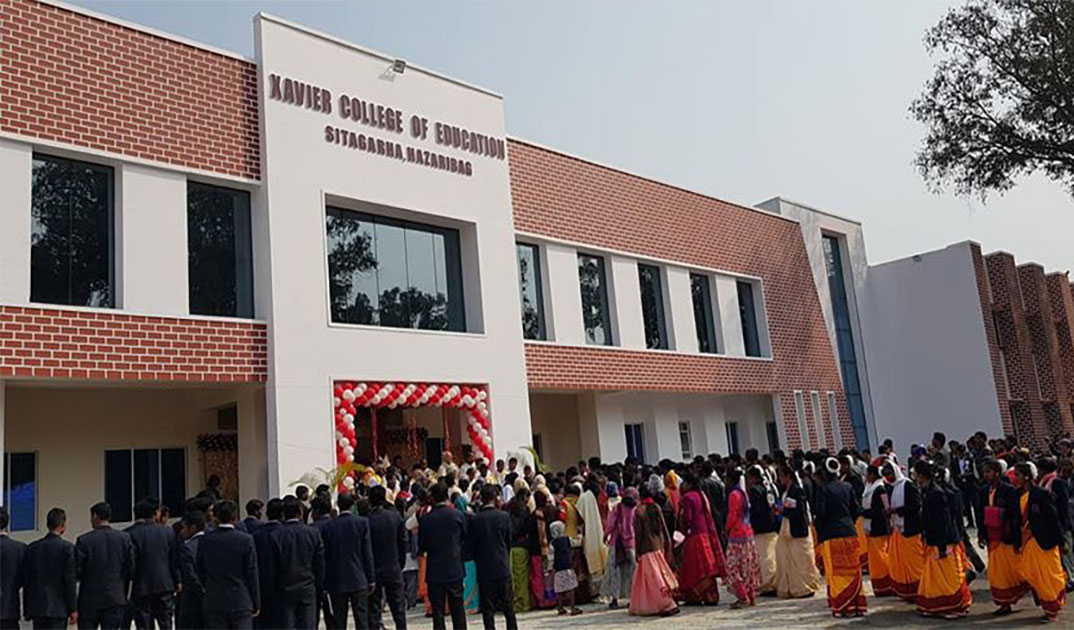 The new building for the Bachelor of Education program
DONATE
The new composite college of teacher training for primary level and secondary level will be named Xavier College of Education. This College is in Sitagarha, close to Hazaribag city in Jharkhand State. Around 40% of Jharkhand's population is made up of various indigenous groups, including the Dalit communities. The Santhals are the biggest tribal group in the State and only a third are literate. Tribal and Dalit communities still face discrimination in most aspects of life and continue to remain over-represented in all statistics relating to poverty, quality of life and injustice. The majority of the students and graduates of the College are from tribal groups and thus they become crucial role models for their communities. Their teaching and instilling of high moral values make a positive impact on individuals, villages and communities. Thanks to your generous support, the future teachers who will graduate from the Xavier College of Education will go on to teach in government, religious and other independent schools primarily within Jharkhand State to educate thousands of children. The College envisions those children will then go on to educate tens of thousands more in the future, just as the Hazaribag Jesuit Province's Development Director, Fr Bob Slattery SJ, says:
"Just imagine if 100 Xavier College secondary teachers each year get work in a high school of even 1000 students, their presence in the school, both in teaching and by their very presence, will affect 10,000 students directly and indirectly. Poor families will benefit as these newly trained teachers get a salary and are able to help their families. As the students' families benefit, their children will learn more".