Donate – Emergency Action Fund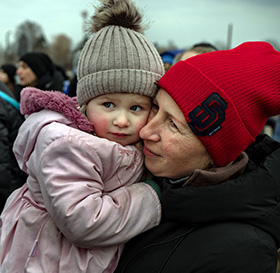 As the war in the Ukraine continues, our partner Jesuit Refugee Service in Europe is working around the clock delivering immediate support to Ukrainian people in desperate need.
–
$60
could provide basic hygiene kits for 3 families fleeing Ukraine
–
$150
could enable a Ukrainian refugee child to attend school (clothing and school materials)
–
$540
can provide a month's worth of emergency food and water for a family
–
$2,000
can provide three months' temporary accommodation for a Ukrainian family
Since 2020, our Emergency Action Fund has helped deliver immediate help and ongoing support to over 600,000 people around the world. Please donate to our Emergency Action Fund today, so we can continue to ensure urgent support is delivered where it's needed most.