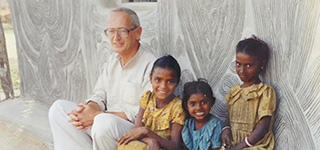 Our
Story
Since 1950s, when Australian Jesuit missionaries first went to India to serve communities in need, Jesuit Mission has put our faith into action to create meaningful change in the world. Today we continue this vital work where the need is greatest.
Early days in Hazaribag
The young Jesuit missionaries set off for Hazaribag, a province in the northeast region of India, when Belgian Jesuits had earlier started a provincial parish. While they came with grand aims, The Australian Jesuits started with modest means. Their first school educated a handful of children from Kolkata and the children of mine workers in Bihar state.
"Arriving in India with two friends I felt good, but when I realised the villages had no electricity, mud houses, and the children didn't attend school, the learning was huge."
– Fr Bob Slattery SJ
They then began their long-term commitment to work with the most disadvantaged individuals – Dalit and Indigenous people, in particular women and children. Over time, inspired by the idea of magis and supported by donations from family and friends at home, the Australian Jesuits set about serving the local community by addressing basic needs and building communities – from providing legal aid, advocacy for workers' rights and sharing Mass in many remote villages.
Since these early beginnings the Australian Jesuits have continued to serve and empower the communities in Hazaribag. Over the years, more than 25,000 students have been educated in schools run by the Jesuits, and 12 parishes have assisted 694 villages across the province with social services. The Jesuit mission to Hazaribag established a true core of service, compassion and empowerment within their community development work. This remains a core element of our identity and continues to inform the work that we support today.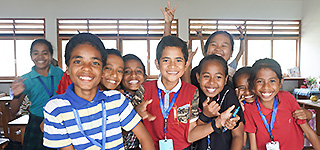 Reaching more people
By the early 2000's, Australian Jesuits found their mission of service to the poor expanding to accompany communities in other countries outside of India. Responding to the poverty and injustices resulting from conflict, Australian Jesuits travelled to Cambodia, East Timor (Timor-Leste), Burma (Myanmar) and Pakistan.
"As we rededicate ourselves to sharing God's blessings with our brothers and sisters in India, we turn with them to our neighbours in East Asia."
– Fr Stephen Curtin SJ
Through the continued support of Jesuit Mission family and friends, the Australian Jesuit missionaries in these countries served the communities in whatever way they needed – including providing health care, education and training, food production, support for landmine victims and other projects that promote the God-given dignity of all.
LEARN MORE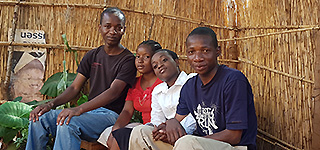 Our work today
The projects we support around the world are diverse, focusing on empowering women, men and children living on the frontiers to liberate themselves from poverty and injustice through participation in programs that build skills, capacity and resilience to live full and free lives.
Jesuit Mission continues to support the work of Australian Jesuit missionaries, as well as other Jesuit and companions working overseas serving poor and marginalised communities.
It is only through the generosity and prayers of Jesuit Mission supporters that we have been able to serve and empower our most vulnerable sisters and brothers for the past fifty years. Thank you for joining with us in our journey of faith, service and the promotion of justice.
"As a global community of faith that does justice, we accompany our most vulnerable brothers and sisters on that journey. This is our Jesuit Mission."
– Fr Trung Nguyen SJ, Rector
LEARN MORE