Arunny's transformation is like a miracle. And it's happened thanks to people like you.
Arunny was only six weeks old when she started having seizures. Her mother Chantou knew something was terribly wrong.
We need your help to provide vital support to enhance the lives of vulnerable people like Arunny living with intellectual disabilities.
DONATE NOW
Chantou (45) and Arunny (12) live in rural Cambodia, where the majority of people are burdened by poverty. For this mother and daughter, every day has been a challenge.
When Arunny was born she weighed just 2.5 kilograms.
At six weeks, Arunny started to suffer seizures. Chantou knew something was terribly wrong, and rushed her baby to a health care centre. Arunny was diagnosed as suffering tetanus. When treatments failed, Chantou was told Arunny had epilepsy. But, as the months passed, Chantou noticed Arunny wasn't developing like her three siblings had.
Eventually, doctors determined Arunny had an intellectual disability and cerebral palsy.
In Cambodia, life for people with intellectual disabilities can be especially difficult. There is widespread misunderstanding and a lack of information, which can lead to exclusion and discrimination.
Please help extremely vulnerable people living with intellectual disabilities get the crucial support they need to live a better life.
DONATE NOW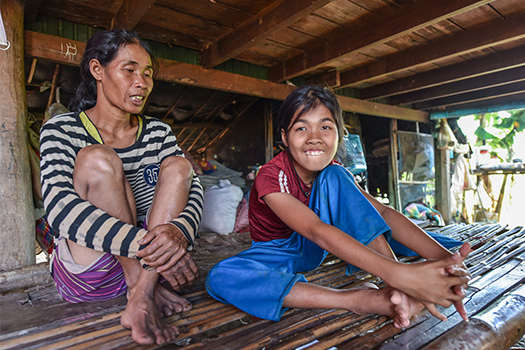 From the moment she was born, Arunny required round-the-clock care and, as the years passed, she remained dependent on her mother for everything.
At four, Arunny couldn't talk and used basic gestures to communicate her needs. Her feet were very weak, and she could only walk short distances with bad balance. Severe spasticity in her hands made it impossible for her to feed or care for herself.
Chantou was devoted to her daughter but without support she didn't have the skills to teach Arunny how to develop independence.
Then, thanks to the compassion and generosity of people like you, everything changed.
In 2014, the outreach team of Jesuit Mission's local partner Karuna Battambang Organisation (KBO) met Arunny.
Through the 'Enhancing the Life of People with Intellectual Disabilities' program, KBO aims to improve the lives of people with intellectual disabilities, reduce discrimination and empower families of children with intellectual disabilities.
The program offers supports and services including:
Special education for people living with an intellectual disability
Individualised healthcare and physical development programs
Skill-building for children and parents
Access to proper sanitation, hygiene and clean water
Family education and support groups
Emergency support – and more.
Thanks to the generosity of people like you, Arunny has been receiving home-based care services through the program since 2014.
Arunny's progress has been nothing short of a miracle.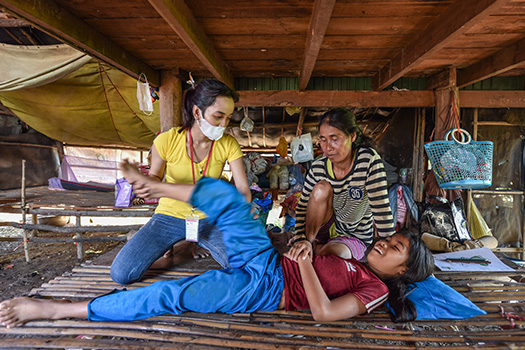 She's reached wonderful levels of independence, learning how to communicate, how to use utensils, and take care of herself.
Through special education classes, Arunny can now recognise objects, use money and recognise numbers and letters. And, through physiotherapy, her physical condition and walking have dramatically improved.
Chantou has also learned invaluable skills to support her daughter, and the family has received additional support through the program, including new sanitation and hygiene facilities for their home.
With schools recently reopened in Cambodia, Arunny walks to the local primary school with friends, where she studies in Grade 1 classes.
Now with friends in the neighbourhood and new independence growing every day, Arunny is enjoying a fuller life, and Chantou and her husband could not be prouder of their daughter. They now see a brighter future for Arunny – one they'd never dared to imagine before.
This Christmas please help ensure we can reach more vulnerable children like Arunny.
Your kind gift will help provide crucial support to people living with intellectual disabilities and their families so they can live their best possible lives.
Please, make your Christmas donation today.
DONATE NOW