Our

 program 

to e

nhanc

e

 the 

l

i

ves

 of 

p

eople

 

with 

i

ntellectual 

d

isabilities

 in Cambodia

 is 

crucial

 

and 

life-changing

.
It is our deep belief that quality of life should be something every person can have. But sadly, many people in Cambodia, especially in rural areas, are facing serious discrimination due to a disability they have no choice but to live with every day.
Jesuit Mission provides funding support to our local partner organisation, Karuna Battambang Organisation (KBO), for their 'Enhancing the Life of People with Intellectual Disabilities' program in Samathpheap Chun Pikar. This program ensures people and their families affected by disabilities—mostly intellectual—can access the help they desperately need to overcome barriers and live a full life. 
The generosity of supporters like you means we can provide vocational training for practical livelihood skills as a crucial step towards living independently, improvements to housing for better living conditions, and access to the vital health care people need to survive. 
You are also helping to raise community awareness in Cambodia about important matters in relation to disability, such as the rights of people living with a disability, the prevention of disabilities, and empowering families to help their loved one gain support from authorities.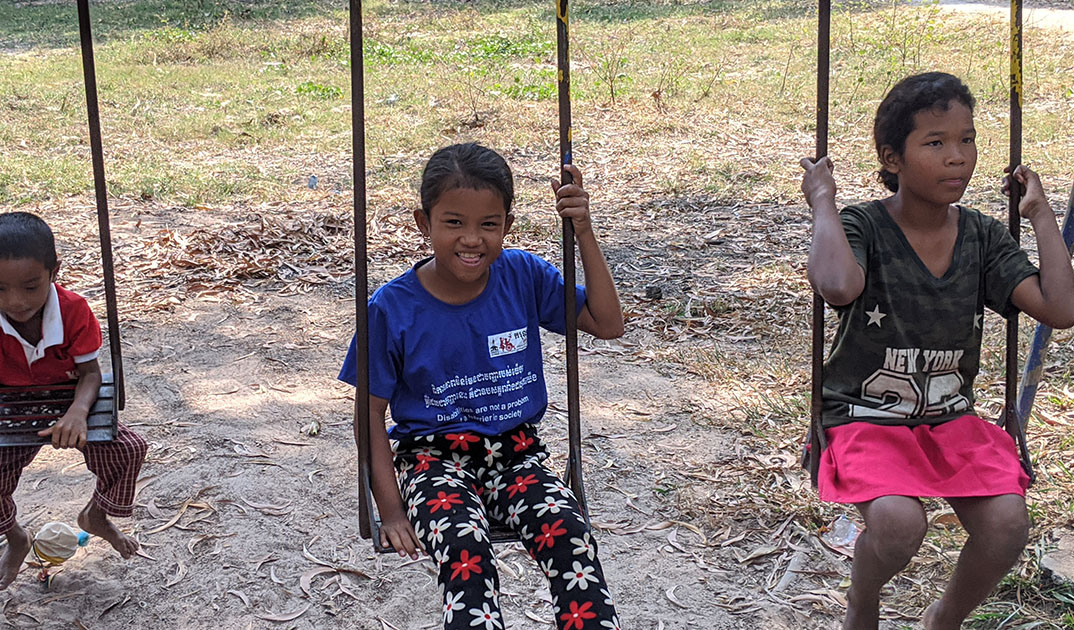 "
Our project targets mostly rural areas
 to benefit the most 
marginali
s
ed 
people
 with disabilities 
and
 help stop the discrimination they face at all levels of life. 
We aim to
 provide 
people
 with disabilities with the means to become productive members of their families and help reduce poverty.
"
Your support means 
people 
with disabilities 
can be free from living in fear and isolation
 from their community
. Instead, they can receive the opportunities they need 
to overcome their challenges and live an independent, fulfilling life.
Srey Neang no longer lives in fear
"How will my sister live?" This is a question Hy Buney would often ask herself about her little sister, Srey Neang. She was afraid for Srey Neang's future, knowing that life would not be easy for her.  
Srey Neang, now 21 years old, has been living with mental illness and a behavioural disorder since a young age. Their mum struggled to raise the family as a single mum and passed away when Srey Neang was five years was just five years old, leaving her and her seven siblings to survive on their own.
Srey Neang's eldest sister, Hy Buney, took on the role of parent and worked tirelessly from a young age to raise her brothers and sisters. It was especially hard for Srey Neang who was not able to take care of herself. Hy Buney told us how heartbreaking it was to see Srey Neang hiding away from other people – finding refuge in being alone as her mental health illness became more apparent. But, the isolation made Srey Neang's condition worse as she was not able to develop her communication and social skills. Even a simple conversation with another person felt like too much for Srey Neang to handle. So, the outside world became a frightening place for her.  
Hy Buney worried that Srey Neang would never be able to live a normal life as an independent person. 
Then came a ray of hope.
Because of supporters like you, Srey Neang was able to join the Enhancing Life of People with Disabilities program run by Karuna Battambang Organisation (KBO) in Cambodia. Srey Neang was involved in the support program for three years. She is now no longer afraid to talk to other people. She can take care of herself, and even help out at her sister's shop making and selling food. Hy Buney shared how she can now see a brighter future for Srey Neang.
You have helped Srey Neang to overcome enormous challenges and live independently with confidence – free from fear of the outside world. Thank you!
"Now I have my own skill as a cook. I can make coffee, make sweets, and lemon tea. Thank 
you Karuna Battambang Organisation
, and especially my lovely sister who always helped me so that I can have a good day like today
.
"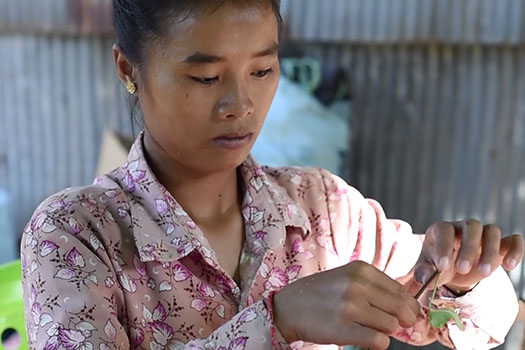 Srey Neang cooking.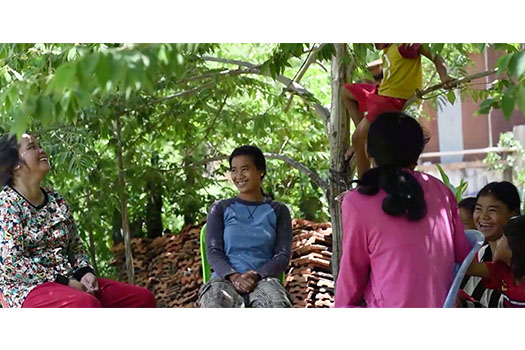 Srey Neang, in the middle, smiling and chatting with her sisters.