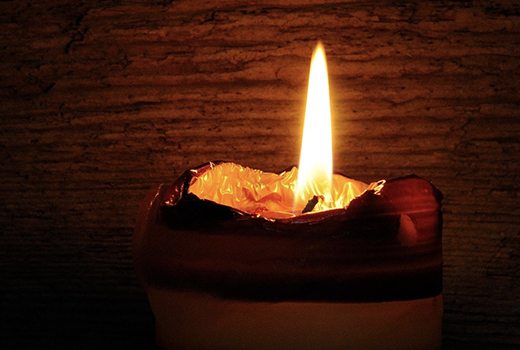 Nations in crisis: Prayer Vigil for Myanmar and India
Download Prayer Vigil Booklet
Jesuit Mission invites you to attend an online Prayer Vigil for Myanmar and India on Wednesday 2 June at 6:00pm AEST.
Leading the Vigil is Fr Tony Moreno SJ, President of Jesuit Conference Asia Pacific (JCAP), Fr Quyen Vu SJ, Australian Provincial, Fr Santosh Minj SJ, Provincial of Hazaribag Jesuits, Fr Stany D'Souza SJ, President of Jesuit Conference of South Asia (JCSA), Fr Jun Viray SJ, Provincial of the Philippines, and Sch. P.V. Joseph Buan Sing SJ, a Burmese Jesuit Scholastic based in Rome, Sr Britto, Holy Cross Sister (India), Anna O'Halloran, Chair, Jesuit Mission Maytime Fair Committee, Gillian Donoghue, Development Officer of Myanmar Jesuit Mission and Niang Mun Ciin (Mun Pi), who works with Myanmar Jesuit Mission.
The 30 minute Vigil is an opportunity for the global Jesuit community and beyond to join together in solidarity and support our sisters and brothers in crisis overseas.
In Myanmar the violent military coup has thrown the country into immense political unrest, resulting in the deaths of over 700 peaceful protestors since February. Efforts to control the spread of the virus have crumbled, with many hospitals shut down or taken over by the military.
In India the second wave of the pandemic is catastrophic. Critical oxygen shortages and over 24 million COVID infections sadly means that there is little hope for vulnerable communities. In our Australian-founded mission in Hazaribag, four Hazaribag Jesuits have died and more than 15 Hazaribag Jesuits have been hospitalised with COVID. However, the number of deaths and those hospitalised is changing daily.
"As we continue providing emergency relief and support to those in Myanmar and India, it is ultimately through the power of united prayer that we can all stand together and work towards restoring lasting peace and the gift of healing."
Register Now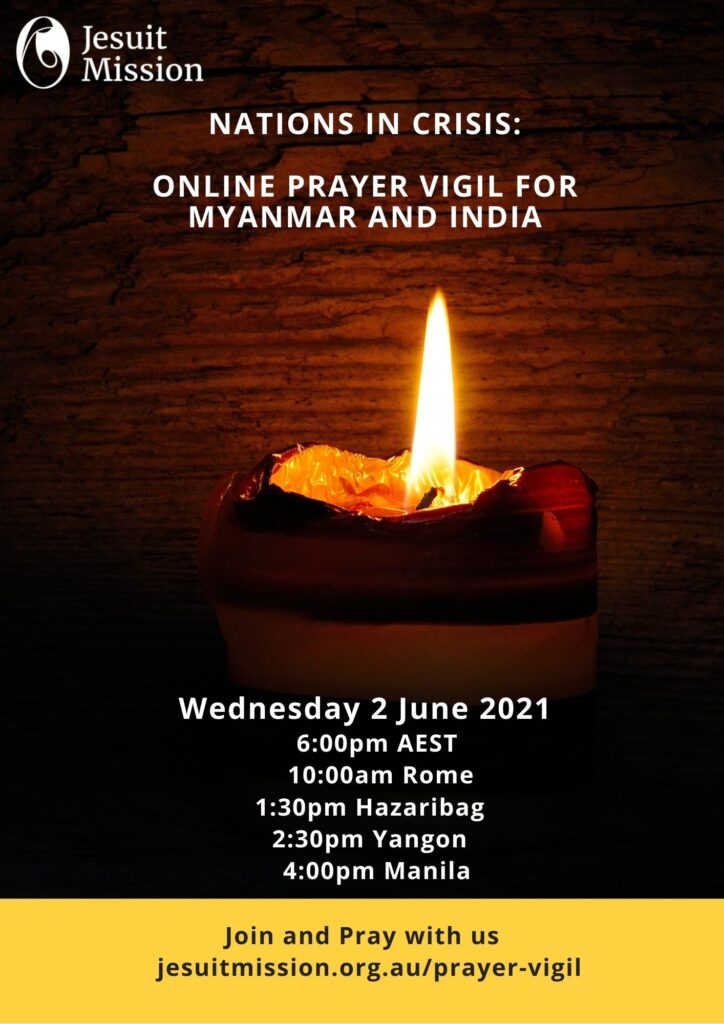 ---
International times - Wednesday 2 June:
Australia (AEST) - 6.00 pm
Belgium (Brussels) - 10.00 am
Cambodia (Phnom Penh) - 3.00 pm
China (Beijing) - 4.00 pm
Indonesia (Jakarta) - 3.00 pm
India (Hazaribag / New Delhi) - 1.30 pm
Italy (Rome) - 10.00 am
Malawi (Lilongwe) - 10.00 am
Myanmar (Yangon) - 2.30 pm
Philippines (Manila) - 4.00 pm
Spain (Madrid) - 10.00 am
Thailand (Bangkok) - 3.00 pm
Timor-Leste (Dili) - 5.00 pm
Vietnam (Ho Chi Minh) - 3.00 pm
United Kingdom (London) - 9.00 am
Zimbabwe (Harare) - 10.00 am
Register Now
---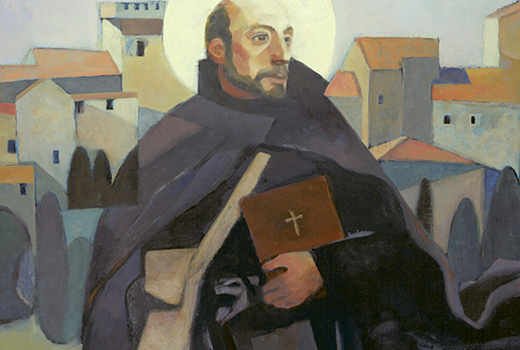 To celebrate the 500th anniversary of Ignatius' conversion, let us join together in Ignatius' Prayer of Generosity.