Our 

Livelihood Enhancement

 Program

 for People Living with Disabilities at Prey Thom Community

is vital in Cambodia.
One of the main problems Cambodia faces is the ongoing consequence of the millions of dangerous landmines that remained even after the war. Sadly, Cambodia has one of the highest number of people living with disabilities caused by landmine accidents.
Being a predominantly Buddhist society, there are some associations of disability to bad deeds in previous lives. People who have disabilities are frequently discriminated against, isolated, excluded from education, and pushed to the margins. 
Our local partner, Karuna Battambang Organisation (KBO) has significant expertise in working with those people living with a disability and their critical work is made possible by the generosity of supporters like you. 
Since 2006, KBO's project 'Livelihood Enhancement for People Living with Disabilities' has been providing support to people living with disabilities and their families to improve livelihoods opportunities. The specific focus is on the ability for people to generate income through agricultural activities (such as rice and vegetable production) and textile production (such as kroma weaving). 
With your support, we can lift up a community of people with disabilities and their families in Prey Thom to overcome the discrimination they face. You're helping people to build a practical livelihood for themselves so they can live with dignity and self-sustainability. By generating their own income, people are empowered to provide for their families and feel included in their community.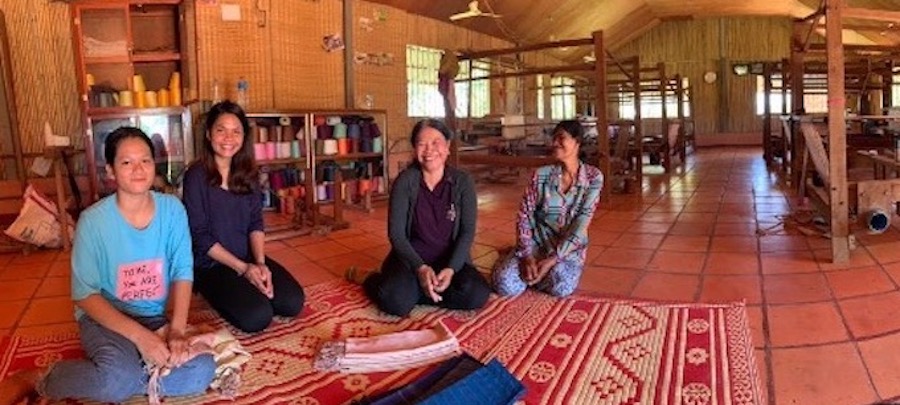 Some of the women who work in the Prey Thom Kroma Workshop.
"
Cambodia is still a country heavily affected by the consequences of war, where people with disabilities have real difficulties to make a living. The Commune of Prey Thom is built over a land that used to be a battlefield where 120 unexploded weapons were found and deactivated."
Your support means people with disabilities and their families can overcome discrimination and live a full life. Thank you for helping to provide opportunities for people to experience the social inclusion and self-sustainability they have been hoping for.
Teng is now thriving in the 
workforce
Meet Teng the newest and youngest member of the Outreach team, working with our local partner KBO in Cambodia.
Teng is a joyful young woman who's thriving in her new job as Accountant Assistant. She's extremely proud of herself – as she should be. She's come so far, with you by her side.
When Teng was 10 years old, she was gathering bamboo in the forest with her mother when she stepped on an unexploded landmine. The accident caused her to lose her leg.
It's thanks to the generosity of people like you that Teng was able to get the support she needed to create a full and free life. While Teng was in hospital she met Fr Greg Priyadi SJ, who later introduced her to the Outreach team run by KBO – the very team she works with now! Back then, the team encouraged Teng to study and live at the Arrupe Centre, and helped her family to move to Prey Thom community where KBO works today.
This was a transformative experience for Teng. The Arrupe Centre, founded in 2001, helps people with disabilities access the education, healthcare and employment opportunities they need to thrive.
Teng made friends, started her education and laid the foundations for a better future. She went on to graduate high school and has recently started studying accounting at university. She has blossomed into a capable young woman who's ready to make the most of her new job, and help other people living with disabilities achieve their goals too.
"My current job has been a light that comes to my life after facing so many difficulties in the past."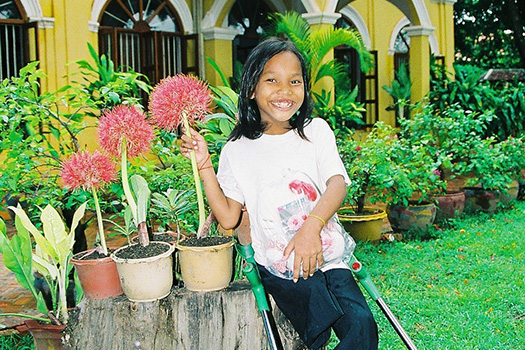 Teng at 10 years old.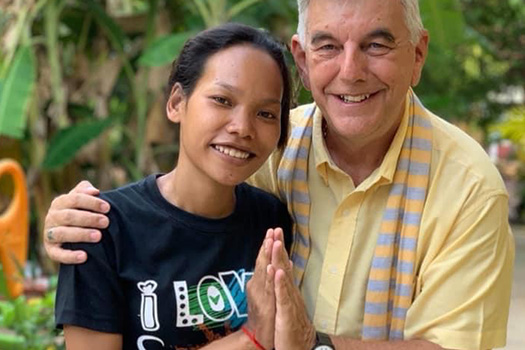 Teng with Bishop Kike Figerado SJ, Apostolic Prefect, Apostolic Prefecture of Battambang.