The Pastoral Accompaniment of Burmese Refugees project gives a sense of human dignity and community spirit to people who fled their home.
There are nearly 12,000 Karenni refugees from Myanmar's Kayah State living in the Ban Mai Nai Soi camp and the Ban Mae Surin camp in Mae Hong Son Province, just 3km over the border into Thailand. It is a prison-like existence for these displaced people and the psychosocial effects are devastating. We've seen how their spirit of community diminishes from the ongoing encampment – making an already difficult situation worse for frightened people seeking refuge. Jesuit Refugee Service Asia Pacific, with the backing of Jesuit Mission and our generous supporters, is leading the Pastoral Accompaniment of Burmese Refugees project among the two camps to provide hope during desperate times. It is important that refugees are accompanied, encouraged to support one another, plus have access to pastoral care and a sacramental life especially for Catholic communities. This project aims to revive the sense of community and social structure for the Burmese people who are detained in camps. By supporting this project, you will help renew the steadfast hope in Christ for the 2,200 Catholics in the camps. Two Jesuit priests make the journey regularly across the border from Myanmar to offer pastoral care visits and sacramental ministry. You'll also help us reach particularly vulnerable refugees like orphans and unaccompanied minors with food, shelter, clothing and access to education. Our partner has been working to enhance the community spirit in the camps by setting up Family Friendship Groups. These groups are community driven to support camp members with psychosocial counselling, advocacy and solutions to practical issues. One of the most successful initiatives of the Family Friendship Groups is pig-raising because it provides small income opportunities. This is crucial because refugees are not allowed to leave the camp to sell goods or take up employment. The practical skills learnt from initiatives like pig-raising are also an important way to prepare refugees for the time when they may return to Myanmar and resettle into the community.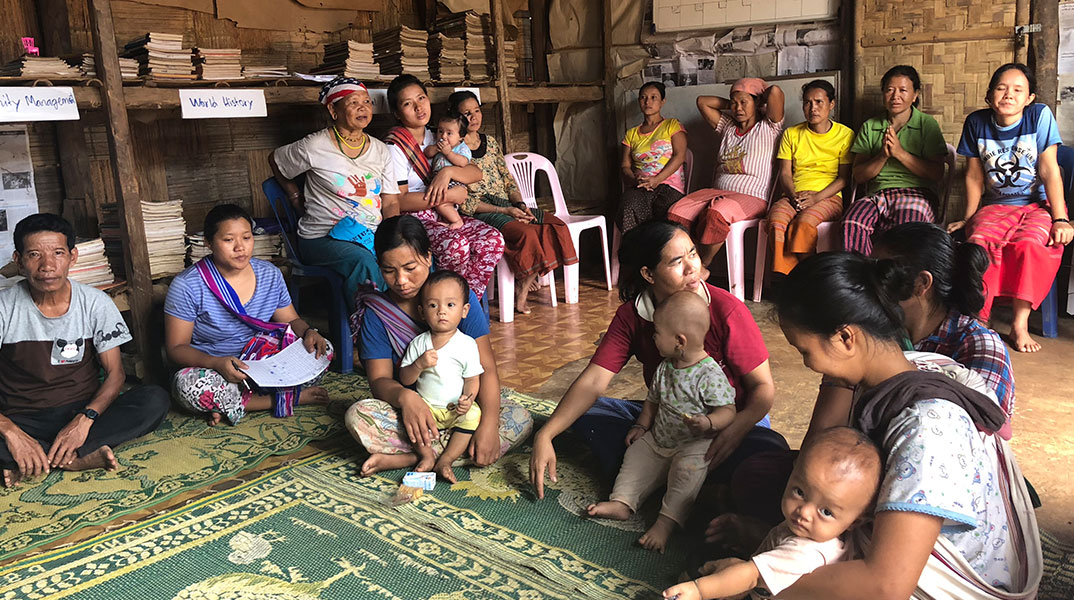 As well as pastoral services, home visits and practical help, Jesuit Mission's partner has created Family Friendship Groups in the refugee camp. These groups discuss a myriad of challenges, and plan community projects for self-reliance.
DONATE
"The Family Friendship Group Community Project was initiated not only for the family's additional income but for promotion of self-reliance, sense of shared responsibility, and dignity as a person. It's about unity and helping one another in the community to foster social cohesion."
Thank you for supporting this project. Through pastoral care you are strengthening the spirituality of the Catholic refugee community, as well as supporting the physical wellbeing of the broader groups of vulnerable refugees.
Nan's Story
Like almost everyone in the refugee camps in Thailand, Nan and her sister Suu struggle to support themselves. It is illegal to leave the camp to sell their handcrafts or to seek employment. They must rely on handouts of food to survive. With your support, the sisters joined a Family Friendship Group run by our local partner and implemented by local community leaders. Nan and Suu borrowed 1,000 baht (AUD$43) and bought a piglet. After raising the piglet into adulthood, they sold it for 3,000 baht. Over 30 other people in the camp have joined the pig-raising initiative. This is a much-needed opportunity for refugees to earn an income and develop practical skills while they await the day they can return to their homes.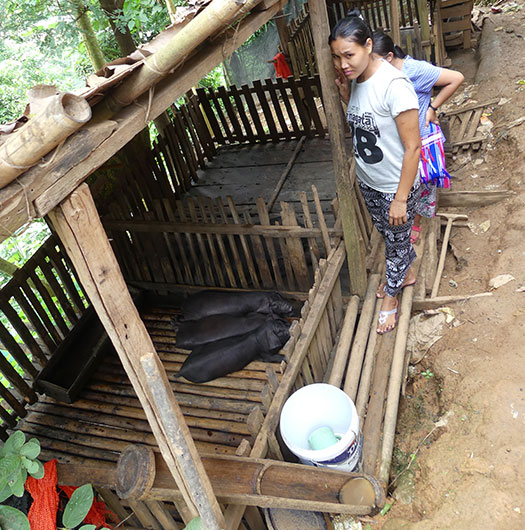 Raising pigs within the camp is a crucial way for refugees to earn income.