Colégio de Santo Inácio de Loiola
After opening its doors in 2013, Loyola College is now home to 690 students. In December 2018, the school will celebrate its first Year 12 graduates.
After a long history of subjugation by the Portuguese and Indonesians, the Timorese fought and finally gained independence in 2002 but the nation was in absolute ruins. The education system had completely collapsed after the Indonesian withdrawal in 1999, with up to 80% of school buildings destroyed and most of the teaching profession returning to Indonesia.  With a long tradition of educating men and women for others, the Jesuits knew they could accompany the Timorese to rebuild their future by arming their people with high quality education institutes. Through the generosity, companionship and solidarity of our supporters, including thousands of students, teachers, parents and friends across the Australian Jesuit and Companion school and parish network, the Jesuits have been able to bring this ambitious education project to life. Located 45 minutes' drive from Dili, the secondary school Colégio de Santo Inácio de Loiola (Loyola College), and a teacher's training institute,
Instituto de São João de Brito
, are the two backbone institutions of the Jesuit Education Project.  As one of our nearest neighbours, and one of Asia's poorest countries, Timor-Leste is a priority country for Jesuit Mission and we are proud to support this pivotal project which is forming young people to become men and women for others and contribute to the development of their young nation. After opening its doors in 2013, the secondary school is now home to 690 students across Years 7 to 12. Students continue to thrive:
100% of all students passed the national exams in 2016 and 2017
Two of the Year 9 students came 1st and 5th place in the 2017 national exams
Outstanding performance in academic and sports competitions at local and national levels
Teachers champion the gifts and formation of all students
In December 2018, 104 Year 12 students will be the first graduates of the school

Students at Loyola College forming a giant 'Obrigado' (meaning 'Thank You' in Portuguese). 
DONATE
Program details
Since construction commenced in 2012, most of the school buildings have been completed. The College has six blocks of five classrooms, a multi-purpose hall big enough to hold the whole student cohort and their families, a new administration building block, a library, a cafeteria and staff faculty rooms. Enabled by our Australian family, we are thrilled that Jesuit Mission has been one of the key partners of this vital project.
It is inspiring to see the College activities move so far beyond concrete, roofing and paint, to provide the home, facilities and skilled educators needed to nourish the deepest desires of Timorese youth and future leaders.
Since the first students commenced Year 7 in 2013, a key priority of the College has been to include students from the surrounding neighbourhoods which is home to many families living in poverty. Every year local students in Year 6 at the local government school are encouraged to join a tuition program to increase their knowledge and skills and strengthen their chances of passing the entrance exams. They are then provided with extra support throughout their schooling at the College. All students at the College are on some type of scholarship as the Jesuits aim to keep the fees low so all students with determination and zeal are able to join the school.
Ivo's Story
Ivo is one the first students to join Loyola College, and will graduate from Year 12 in December 2018. Ivo is super proud to be part of the "first batch" and is very thankful to his teachers, the Jesuits, his family, his school leaders and to the donors who have supported the school and helped him and his peers achieve their dreams.
"I think Loyola College is one of the best schools in the country. First, the teachers teach us how to learn and how to develop our capacity to help other people. It is not about the subject but it is about life, teaching us more life. [That] is one of the parts which I love the most. They teach me how to be a responsible person and an honest person."
"… this school makes me closer to the world, it changes me to be to be a better person. It has taught me about leadership," says Ivo who was a member of the Student Council in Junior High, and was the President in 2017. This year he is focussing hard on his studies in natural sciences, mathematics, geology, biology, chemistry, Portuguese and English. Ivo is determined to do well in his exams so he can continue with his ambitions to give back to his country.
"I need and I have to go to university I want to study about international relationships and international business. I am applying for the Jesuit University in Tokyo, Japan... I think I need to see the world first and then come back and help develop my country through experiences I have got from the other countries."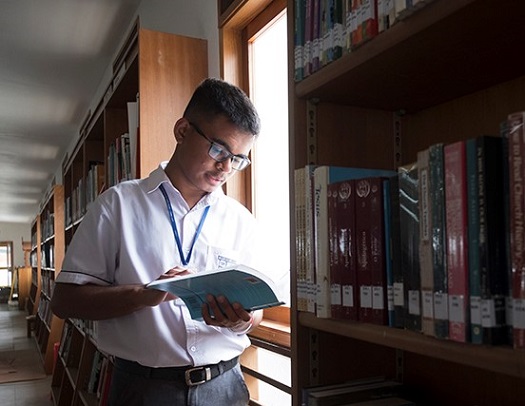 "The teachers teach us how to learn and how to develop our capacity to help other people."
"I hope I could develop my country, especially the education. I wish I could be a member of the government so I could help a lot to develop my country." "On behalf of the students I would like to let you know we appreciate your contribution to our country and especially for our study in this school for the building, and textbooks, thank you very much for your contribution."
Thanks for sharing your story with us Ivo and we can't wait to see you graduate!
Your support can give young people in Timor-Leste the opportunity to build a better future for themselves and their communities.