Light of Mercy Home
The Light of Mercy Home is a supportive environment where children living with a disability can learn, gain confidence that disability is a part of their identity, and become independent young adults.
After many years of instability, Cambodia has been rebuilding itself. Despite considerable progress in the country's economy, there has been little improvement in the living conditions, social services and education for the country's most vulnerable people, including people living with a disability. Awareness and support for people living with a disability in Cambodian society is still low, especially in rural areas. Children living with a disability are among the most vulnerable in Cambodian society. Many parents do not even consider sending their child with a disability to school, and due to a lack of training, most schools in rural areas do not provide any support to these children. As a result, many children with a disability in rural areas don't receive any education and many are left alone at home while their parents go to work. Since 2013, Jesuit Mission has supported the Light of Mercy Home, where children living with a disability can learn to become active participants in society. Thanks to the nurturing care of staff at the Light of Mercy Home, the children gain confidence that disability is a part of their identity, through sharing similar experiences and feelings with each other. The staff create a homely, loving environment where the students are nurtured, feel safe and experience the benefits of being part of a family. The Light of Mercy Home is run by our local Jesuit partner, Jesuit Service Cambodia. Many of the children supported by the program have hearing and sight impairments and would not have had any schooling available to them if they stayed in their rural home villages. The program aims to enable children with disabilities to live a life of dignity, and fully participate in society. It strives to help each child with a disability live as independently as possible when he or she becomes an adult.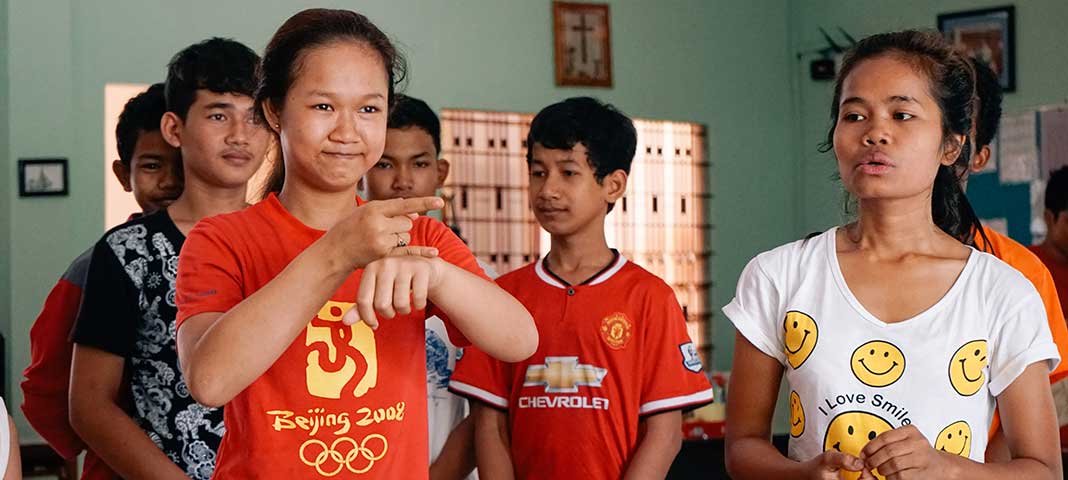 Young people at Light of Mercy Home are able to learn together in a nurturing environment.
"The centre was called Light of Mercy Home with the idea that the centre would give light to the children who are in the darkness because of their disabilities and impairments, and become a home which has an atmosphere full of mercy and loving compassion."
The program facilitates formal education for the children, with most of the children attending specialist schools to learn Braille and sign language. They are also taught life-skills to help them overcome their disability and become more independent. Each child's individual talents and interests are also encouraged through extra-curricular classes such as computer skills, music, dancing and simple craft skills. Some of the young people who had been part of the Light of Mercy Home program have gone on to university and gained employment.
Sochet's Story
Sochet was six years old when he realised he couldn't see anything. Coming from a poor family, he decided that he wanted to learn the Tro (a traditional Khmer bowed string instrument) so that he could sing and beg on the streets. Since starting at the Light of Mercy Home, Sochet has been able to learn how to play the Tro, but also how to use and program computers and play the electric guitar. He finished his high school studies and is now studying IT in his first year at university. Sochet's mother died when he was quite young. Since his father's passing last year, he says he feels quite lonely. "I have a big brother, a little sister and a half-brother," says Sochet. "I do not want to become a burden to them. I hope to prove that I can organise myself and I can fend for myself." About the Light of Mercy Home, Sochet says,
"I am very conscious I have been given an opportunity ... I have friends here, the staff encourage me to develop and I have become responsible. I know what to do and the home is like a family for me."
Sochet now dreams of becoming a computer programmer one day, so that he can create computer programs for other blind people.
Our programs could reach many more people through your generous financial support. Thank you for accompanying us on our mission.