The Promoting Reconciliation project aims to bring encounters between people who have a disability or who live in extreme poverty, and visitors, to generate mutual growth in confidence, understanding and peace.
In Cambodia, decades of war and internal conflict have left both physical and psychological wounds on its people. It has been almost 20 years since the surrender of the Khmer Rouge factions in December 1998, yet the path to reconciliation is long, and building friendship across cultures and religions is important to create future peace. The war also left a legacy of many millions of land mines throughout the countryside. Mines are an enduring danger to Cambodians who live in rural areas, as an estimated 3 million landmines and unexploded ordinances are still scattered in the forested border territories. Among Cambodia's poorest people are mine victims and people with disabilities. The Promoting Reconciliation project, supported by Jesuit Mission, aims to promote reconciliation at personal, community and systemic levels through the Metta Karuna Reflection Centre in Siem Reap and its outreach activities. Run by Australian Mercy Sister Denise Coghlan, the Reflection Centre provides space for local and international visitors to meet, share, advocate and reflect. The Centre's staff take visitors through a small museum on Cambodia's history and an interactive tour of the grounds which has reflection stations with symbols and activities to deepen their understanding of issues in Cambodia through the eyes of the poor.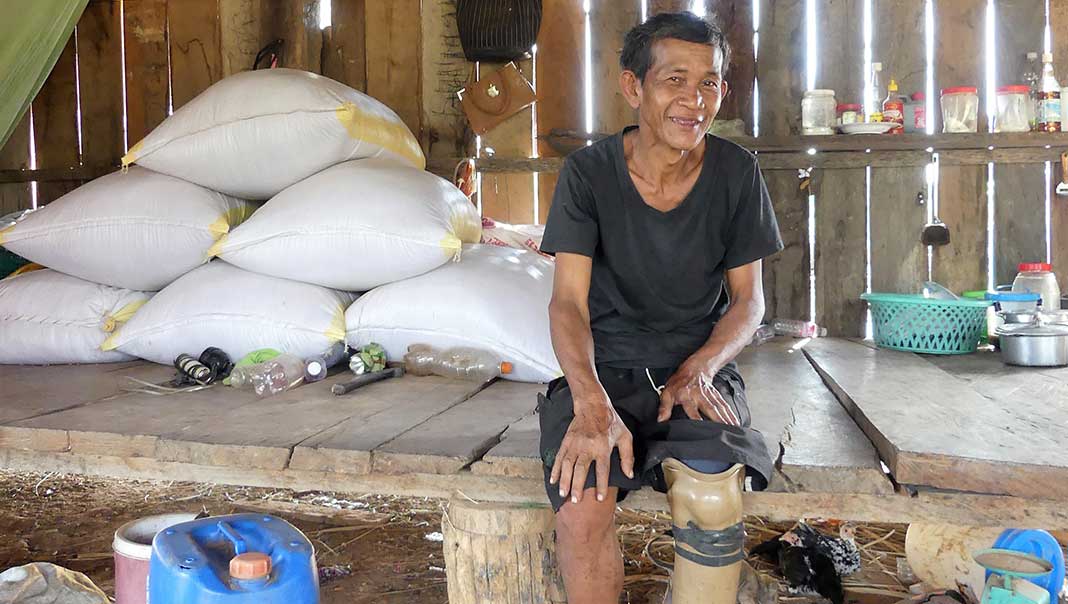 Long Ee is one of the many people living with a disability in rural Cambodia who has been helped by this project.
"The mandate is simple: to accompany the people, listen to their stories, the aspirations of the heart, and to serve and uphold human rights. The aim of the Jesuit Service as a whole organisation is to help towards reconciliation, peace, justice, and the full human development of the people hurt by war. Love is the driving force"
The Metta Karuna Centre is also a hub that supports vulnerable people, providing a place of healing and opportunity to plan for their future. The staff facilitates workshops for people with disabilities, people who have been trafficked, and other vulnerable groups in society. From the Centre, our local partner JRS Cambodia also coordinates outreach activities which improve the quality of life of people with disabilities in remote areas of northwest Cambodia. Outreach activities support very poor people living with a disability to improve their lives through income-generation activities, constructing houses and toilets, providing wheelchairs, peer-support programs, and helping them to understand their rights.
Prak Soun's Story
A valued member of the Survivor Network, Mr Prak Soun is a peer leader in the disability outreach program and works with local villages to visit people living with a disability, assess their needs and identify the best ways that the Promoting Reconciliation project can accompany families. Mr Prak lost his leg in 1988, and he became involved with the program in 2012. His wife has also benefited from the Jesuit program, and was provided with support to set up a shop. Through the income from the shop, their family was able to purchase the land their shop is on. Mr Prak says he now has enough for daily life, and he told us he "wants to help others like him to have better lives". In this district, there are more than 700 people living with a disability. Mr Prak's role as peer leader is to visit poor people with a disability, and follow up with them to find out whether they need any assistance – such as shelter or a wheelchair. Mr Prak also brings land mine survivors to workshops run at the Metta Karuna Reflection Centre to help them reflect on their lives and make plans for a brighter future.
Our programs could reach many more people through your generous financial support. Thank you for accompanying us on our mission.