Since the Australian Jesuits first set sail to India in 1951, we made a commitment to provide education to the most marginalised children in the country. We strive to give children from remote areas opportunities for education and to build their self-worth.
Chiro is a small village in India with a population of about 700 people, situated on the hills of the Mahuadanr valley at a height of 4000 feet. This is home to the Nagesia tribals. It's an extremely remote area and Nagesias must travel very far to reach other communities. Some of the Nagesia children attend a small school called St Mary's and this is their only opportunity for education in the local area. However, the facilities at St Mary's are in desperate need of an update. One of the most urgent needs is that there is no place for the children to eat their meals. They must go outside to eat on the dirt ground under the hot sun or in monsoon rains. The Facilities for Nagesia Tribals Mission in Chiropath project is led by the Hazaribag Jesuits. With the help of Jesuit Mission and our generous supporters, the plan is to build a dining area and kitchen, prefects' room, storage place, and generator room at St Mary's School in Chiro. These facilities will be a make a big difference for the Nagesia children's education and for their self-esteem. By improving the education of tribal children, this project will help reduce poverty - because better educated children will grow up to have access to more jobs. Our hope is for the children to have the education and self-esteem to build careers that will allow for them and their families to live with dignity - ultimately contributing to the alleviation of poverty in their communities.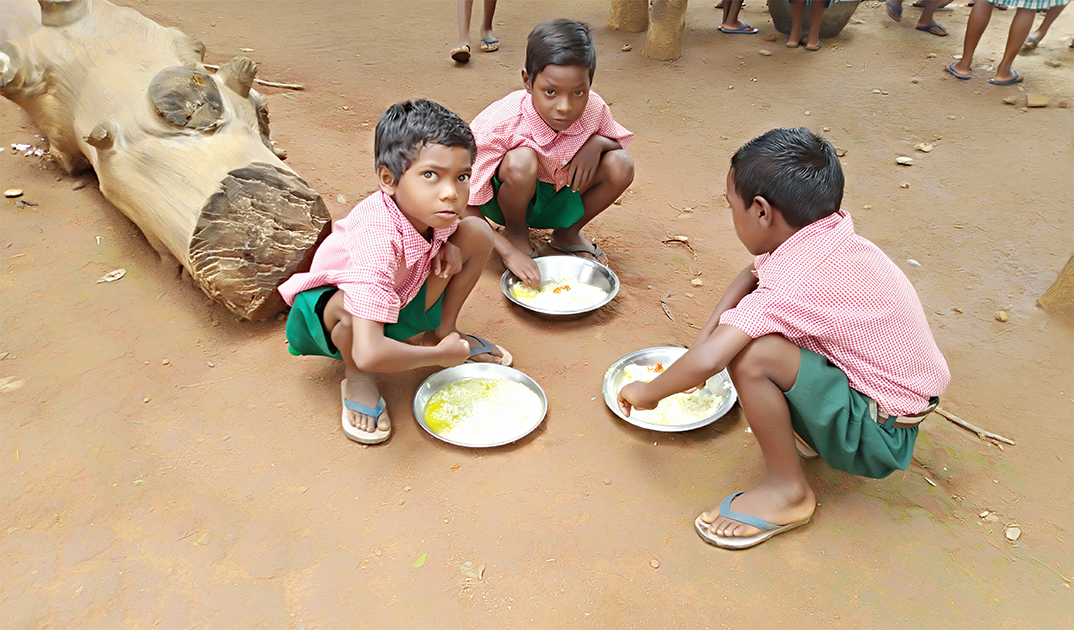 Nagesia children during mealtimes
DONATE
"We believe that the Nagesia boys and girls deserve just as much as well-off students in the city. A good place to eat their meals with dignity is just part of our push to increase self-esteem of the children. Already much has been done in this small village with girls and boys becoming teachers, four girls becoming Sisters, and a student taking his first vows as a Hazaribag Jesuit. But always, more can be done!"
Thank you for supporting this project to reach some of the most vulnerable people in India - rural tribal children. The construction of the building for St Mary's school will provide the children with a better learning environment and vital protection from the weather during mealtimes.