Water is a basic life resource, and what comes with water is life in its full potential. When water is made available to communities, the potential for livelihood is reinforced and health and sanitation are improved.
Timor-Leste is Asia's youngest country, achieving independence only in 2002. Today, almost half of the country's population live in extreme poverty. Since the establishment of independence, the Jesuits have been accompanying the local communities in Timor-Leste to help build a better future. In Timor-Leste, 65% of the population lives in rural areas in small, dispersed villages isolated by mountainous terrain and poor road conditions. In remote areas, easy access to clean water and sanitation is often non-existent. Families living in these communities are forced to walk long distances to collect water. Collecting water is often hard work, and so families use water for only the most essential needs, such as drinking and cooking. This means that other tasks that require water, such as handwashing, are reduced, and this can lead to poor hygiene and an increased number of health problems. In response to this situation, Jesuit Mission supports the Water Project, set-up by the local Jesuits in Timor-Leste. "The clean water project began when we found out that in a certain village many school-aged children were pushing carts packed with water containers for the long trip back to their homes," said Fr EJ Gerilla SJ, a Jesuit priest working on the project. The children then did not having enough energy to learn and were falling asleep at school. The Water Project's primary aim is to support rural communities and help provide clean and safe water. It does this through working with communities to construct clean water infrastructure such as deep well pumps. The project involves community members in the planning, construction and maintenance of the water sources, so that they have a sense of ownership and responsibility of water system. This leads to a strengthened sense of community, as well as long-term sustainability of the water infrastructure.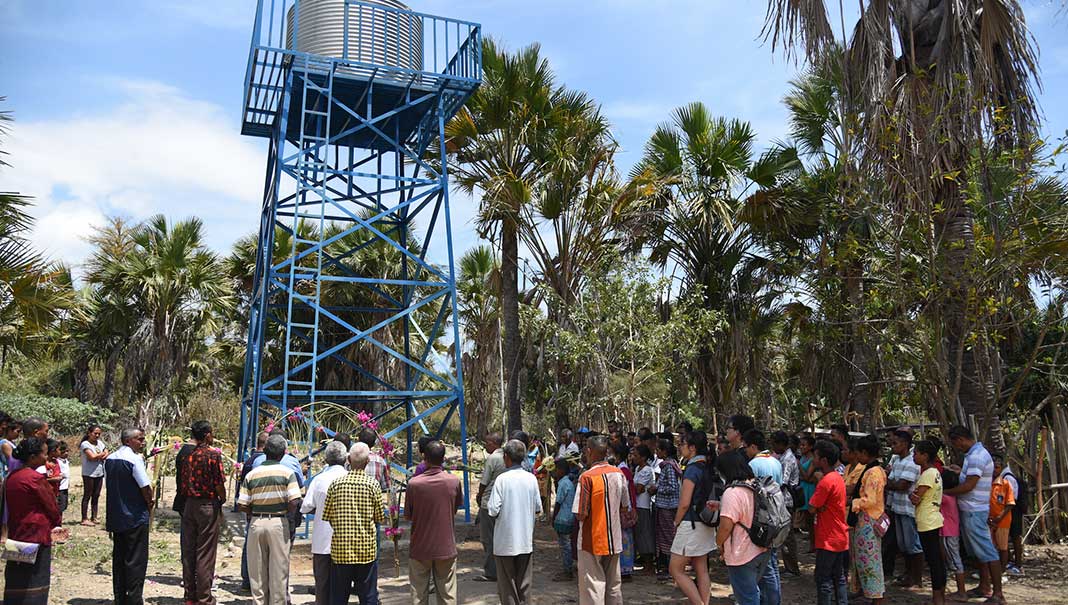 A community in Timor-Leste gathers together for the inauguration of the water system.
"When we were about to drill the wells the people gathered to pray for success. When the water came, they were so overjoyed, thanking God for giving them water at long last."
Families are now able to collect water safely and easily right near their homes. As a result, people are able to have proper baths, families have been able to use water for planting vegetables in their backyard, and children are able to attend school because they no longer spend hours each day collecting water. And with the support of our generous Australian community, Jesuit Mission is funding a water program run by Jesuit Social Service that will provide 10 more communities with access to clean and reliable water sources close to home. Many of the communities reached over this two year program are in the very mountainous villages around Dili, Ermera and Liquica.
Anato's Story
Nine-year-old Anato used to wake up early every morning, collect his cart, and start the long walk to the nearest water source. It was hard work, but he knew that it was his role to collect water for his family. The journey would take four hours, and it was exhausting work, dragging a heavy cart full of water. After this, he would then go to school. However, he was often too tired to pay attention and concentrate during his lessons. Since the Jesuits in Timor-Leste started working with Anato's community to build wells, Anato no longer needs to undertake this exhausting journey each day. He and his family can now access safe and clean drinking water from a well only 25 metres from their home. This means that he is able to go to school well-rested, and spend his free time studying and doing what a child should be doing: playing, exploring, and enjoying his childhood.
"Since water has become accessible to us, Anato has had time to study and play. And the community here has been able to start a small farm. We are planting vegetables and plan to raise animals. I am hopeful that we will soon be secure in terms of our food."
Our programs could reach many more people through your generous financial support. Thank you for accompanying us on our mission.