Our 

program to construct high-tech water filter stations for residents in coastal villages across

 Ha 

Tinh

 province in

 Vietnam is vital for improving health and saving lives.
Access to clean water is absolutely vital for survival. Families need safe water to drink, cook with, and wash themselves, their children, and clothes. But dangerous industrial waste has caused most of the surface water sources in coastal areas of Vietnam to be highly contaminated. 
When the only available water sources are polluted, people have no choice but to purchase bottled water—with money that poor families simply don't have—or use the contaminated water and risk becoming sick with life-threatening disease. 
The people living in coastal areas of Vietnam are in desperate need of safe drinking water—something that must come from deep underground water sources that can be UV sterilised and filtered.
Our local partner, the Jesuit Vietnam Province, is responding to this urgent need for clean water. With your help, they are on the ground working hard to install 40 high-tech water filter stations across four coastal districts in Vietnam. Your generosity helps provide the building materials and equipment plus fund the skilled labour required to construct hygienic water stations.
Fr Peter Than Van Chat, the Parish Priest of Cam Lam Parish, shared with us the incredible impact of his community gaining access to clean water. Your support helped to install their RO UV water station ('Reverse Osmosis Ultraviolet') which is part of an essential process for sterilising and filtering contaminated water.
"Many thanks to generous benefactors who helped give us this RO UV filter water station. Most of my parishioners are poor fishmen who had to purchase bottled water for their daily life due to the local contaminated water sources. I believe that this hygienic water station is a great gift to our poor parishioners and non-Catholic villagers. I also believe that the quality of life of local people will be better thanks by this hygienic water station."
When a village gains access to clean water, hygiene levels in all parts of community are drastically improved. It is life-changing and life-saving!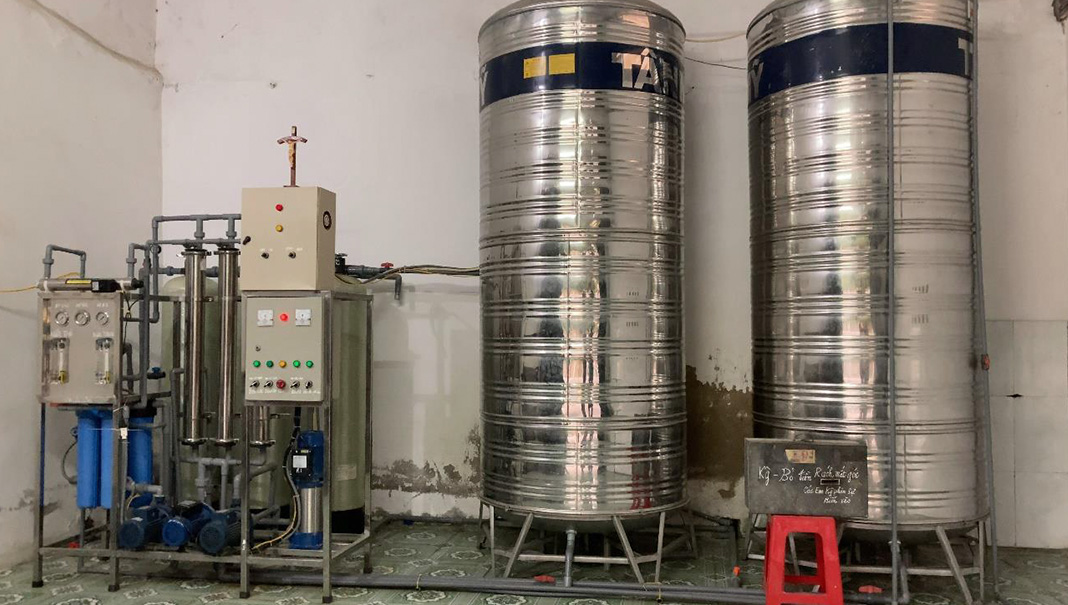 The RO UV filter water station at Xuan Tinh Village. 
"
Through recruited labour from the local community of beneficiaries for building water stations, this project gave jobs to local construction workers. They had daily financial income for their families and precious opportunities to enrich their work skills."
Your support 
is 
helping to
 provide hygienic water
 and job 
opportunities
across
 coastal
 Vietnam
. It
means 
better quality of life
 for individuals, families, and entire communities.
 Thank you!
Mrs Loan now has access to clean water
Mrs Loan is a mother of five children and a widow. Just like her neigbours in the coastal village of Lang Khe, she had to purchase bottled water to use for drinking and cooking. The water cost her $2 per day – a large portion of her total daily income which is only $11 per day. 
The cost of buying water was compounding Mrs Loan's poverty. 
That changed when a water station was installed by our partner in her village – giving Mrs Loan and her family access to clean, safe water. 
Mrs Loan now visits the water station twice per week to collect her clean water – receiving 14 x 20 litre bottles. She pays just 50 cents for this water, as part of her community contribution towards the ongoing operation of the filter system. Mrs Loan is now saving $15 per week in water costs, an enormous difference for her as the sole provider for her five children. 
"We appreciated the service of hygienic water to all villagers. By this RO UV filter water station, the union of our community as both Catholics and non-Catholics is set up and developed."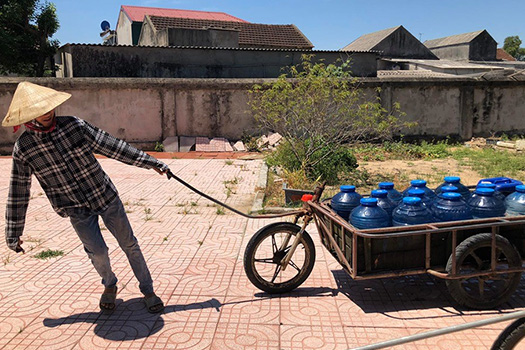 Mrs Loan pulling a cart of water.