Xavier Jesuit School
The Jesuits have built a school that is a model of hope for students, for the community and for all schools in Cambodia.
For over 30 years, the Jesuits have accompanied and served Cambodians who are war-disabled, displaced, disadvantaged and living in poverty.
Today, the impact of the deadly Pol Pot regime lives on as 65% of Cambodians are under 30 years of age. Just 1 in 4 children finish high school and youth unemployment is high.
The Jesuits are committed to improving the quality of education in Cambodia, and established the Xavier Jesuit School in 2015. Located in the north west in one of the poorest provinces in Cambodia, the Xavier Jesuit School is home to four education projects. It includes a Community Learning Centre (for remedial and extra tuition for kids from local public schools), a primary school (kindergarten to Grade 6), a secondary school (Grades 7-9); and senior school (Grades 10-12).  Professional development of teachers is also provided.
Program details
"The most important thing for me when I teach the students is being aware of my responsibility as a teacher. So I should provide a good education for our students. Most of all, I hope they can shape their own dreams well."
As with all Jesuit schools, formation of the whole person is central to the education program. Students learn through an inquiry-based model, rather than the traditional rote-learning program, and they partake in a full range of cultural, art, music and physical education programs.  Those families that can afford it are invited to make a small contribution toward school fees, but there are many who can't, so a scholarship fund has been established. Jesuit Mission supports the students in Grades 7 to 10 who are on full scholarships which include their living costs, school fees and all school materials. These scholarships target students who want to learn but are unable to access education due to lack of funds or because they live in remote villages. The scholarship program aims to support 80 students (50 girls and 30 boys).
Nith and Sina's Story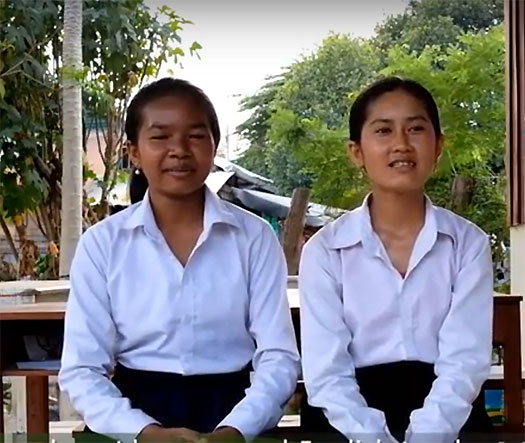 Srey Nith and Srey Sina have been on full scholarships at Xavier Jesuit School since they started Grade 7. Without this opportunity, neither of them would be likely to attend school.
"I like to study in Xavier Jesuit School. Because here I have a good English teacher, and I can feel our teachers take good care of us with deep affection."
 "I like Khmer and Chemistry the most. These subjects will help me to be a teacher and it is my dream. I hope to teach children who do not have the opportunity to learn."
Your generous support will help provide quality education to marginalised students around the world.