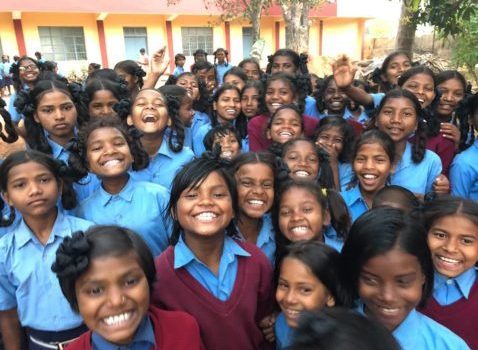 Tarwa building project…accomplished!
Young girls celebrate the opening and blessing of the Dining and Study Hall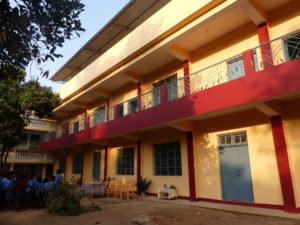 Congratulations to all our supporters who have enabled the building of this dining and study hall (left) for oppressed Dalit girls in Tarwa, India. Every year over 27,000 students (40% girls) are educated in schools established and run by Australian and Indian Jesuits across Hazaribag, India. Since 1951, many Australian Jesuits have served the most disadvantaged and oppressed people in Hazaribag Province in the northeast region of India.
Our commitment to providing education for the most marginalised children in India was key to our foundational mission 66 years ago, and continues to be an ongoing priority for Jesuit Mission today. In order to redress the stark disparity in socio-economic conditions, the Jesuits made a long-term commitment to work with the most disadvantaged communities – Dalit and Indigenous people (in particular women and children). Through hard-work and tireless dedication, the Jesuits have built a loving, trusting relationship with many communities across Hazaribag. And, thanks to the generosity and support of our Australian companions, there are now 65 Jesuit schools and two tertiary institutions offering inclusive education to over 27,000 students every year – almost 21,000 of whom are boys and girls from Dalit and Indigenous Tribal groups. Whilst so many lives and futures have been transformed, there is still wide spread injustice and poverty for Dalit and Indigenous families across the province and so many families living in the margins. The most extreme challenges are faced by girls born into the Dalit caste. Traditionally, education has been withheld, unavailable or impossible for Dalit girls. Girls experience the highest non-attendance and drop-out rates, as many parents still ask 'why bother?'. Often a need for girls' help in the home and in the village outweighs the perceived need for education. One of Jesuit Mission's projects in Hazaribag has been the construction of a study and dining hall for the girls at St Joseph's School in Tarwa, which is mostly for Dalits.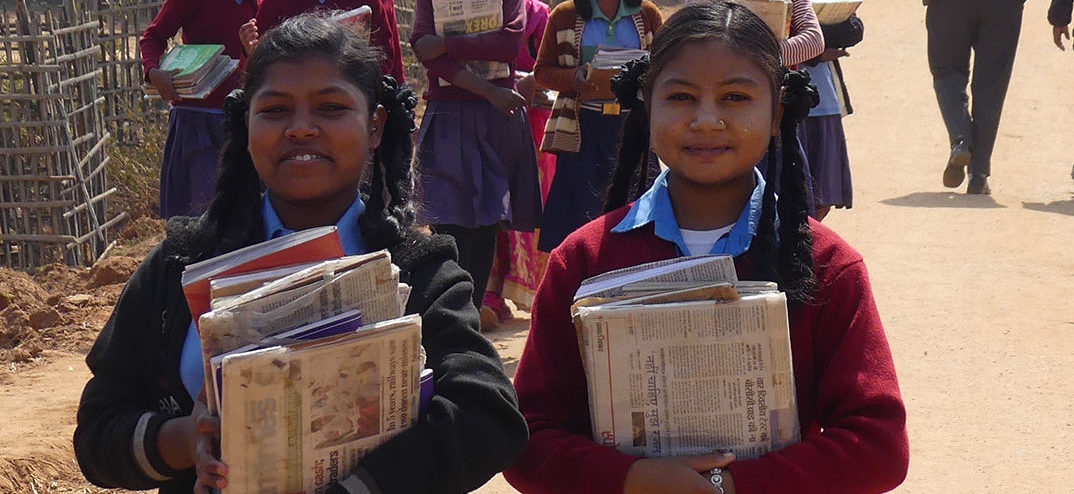 Students from St Joseph's School in Tarwa, India.
Program details
St Joseph's High School in Tarwa is for Dalit boys and girls. These students have come from generations of oppression and fighting for survival and dignity. The girls in the school and the community face another layer of disadvantage because they are Dalits and they are girls. The boys' hostel had a place for dining and for study, but the girls' hostel did not. The main goal of this project was to construct a building for the girls to have their meals and study, sheltered from the rain and sun, with adequate lighting and space. This builds on the school's success in enhancing the self-esteem of the Dalit girls. The girls used to eat and study on the ground outside and if it was raining or extra hot they ate and studied on the floor in their dormitories. Up to 150 girls at the Hostel now directly benefit from this project and so too will the future young women who reside at the Hostel in the years to come. The girls come from 49 local villages varying in distance up to 60km from Tarwa. Construction commenced in 2017 and was completed in early 2019. Girls with even the basic taste for education are more likely to fight for a return to further schooling and for access and opportunities for others and their own children when the time comes.
"Some of our schools are in the towns, Hazaribag, Bokaro, Daltonganj. But the vast majority of them, in fact 39 schools are in villages because the Jesuits have always been challenged to go to the frontiers, to go where others don't"
Nisha and Sangita's Story
The number of girls getting an education in Hazaribag, India is growing. Nisha is a year 8 student of St Joseph's High School in Tarwa – a school established for Dalit children from the villages around Hazaribag. Education has helped Nisha flourish. A committed student who also loves volleyball and kho kho (an Indian game of tag), Nisha proudly proclaims her ambition to be a nurse. It's a revolutionary thought for the child of a day labourer and housewife. Sangita, the daughter of illiterate parents, is particularly confident that she'll realise her dreams of being a teacher. Unlike her siblings – four of whom are already married, she has no intention of disrupting her studies by marrying at a young age. She begged her father to be allowed to come to school and with encouragement from the Jesuits who visit the villages, he agreed. Both girls and their families rely on the hostel accommodation and meals provided by the school. The environment created by the supporters of Jesuit Mission tells children like Nisha and Sangita that they're worthy, that they deserve to have hope for the future.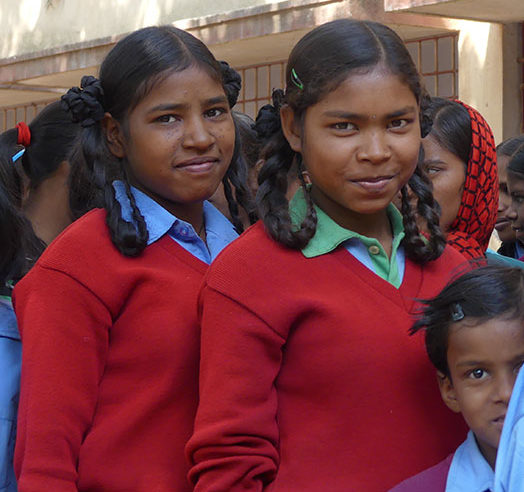 Sangita (left) waits with her friends for lunch at the hostel.
Your generous support has helped marginalised girls access education and enabled them to pursue their dreams and live full and free lives.