Defying the odds and topping the District
In Bhurkunda, a coal mining town to the south of Hazaribag in India, many families caught in a hand-to-mouth existence see education as too expensive. 
However, Roshan Kumar's parents see education as the vital pathway to help secure their children's future. Roshan, a 16-year-old boy who loves cricket, is well and truly on the path of opportunity and change as he has recently topped the exams for his District. Roshan's father, Tinku, works hard to provide for his family and ensure his children can attend school. "I could not finish up to the graduation level. Life was very tough," he says. "I don't have any big dreams. My dream is to give my children a good education." "I did not go to school," says Roshan's mother, Sunita. "My mother had a small shop and I used to help her. When I grew up, I was married off and I have a family now… What we want is [for] our children to excel in their life." Roshan has been attending the Jesuit-run Catholic Ashram School for the past eight years. The school was established in the 1950s by the Jesuits to help poor families working in the coal mines and factories in the area. At the school, children from all walks of life are able to attend, and many are from poor families or tribal groups. Knowing the good reputation of the school, Roshan's parents decided to send him there. Since starting at the school, Roshan has been motivated by the example of other students, and studied hard over the years. This year, he sat the district exam and his hard work paid off, coming first place in the whole district. "I feel very good [about my results]," says Roshan. "My parents feel very proud, and my teachers help me to study so that I get this."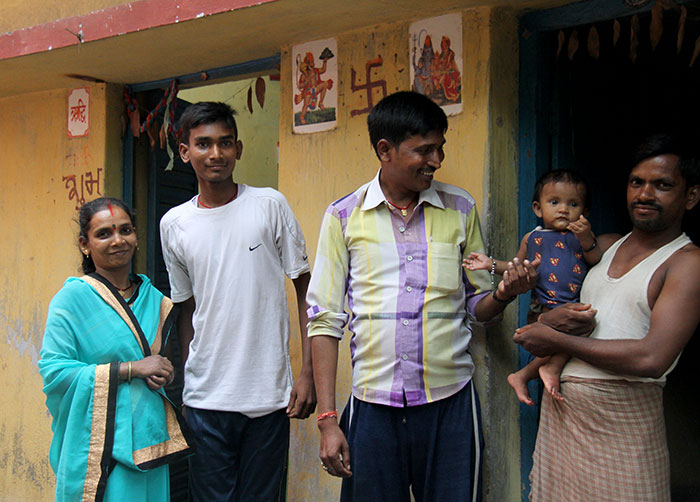 Roshan (second left) and his family are overjoyed by his excellent exam results. 
Father Bob Slattery, an Australian Jesuit missionary who has been working with the schools, is proud of Roshan's achievements as well. "They [Roshan's family] struggle but yet he has done marvellous in exams and topped the district; so that is an example of how the education was given, proper learning, proper motivation, and they are going to go ahead very far. "Without Australian supporters, the work would not have been possible… it is very inspiring for us who are here in the field that so many are supporting us without seeing the actual work."
"We want to say a big thank you to all who supported the school and without them nothing would have been possible… In this school, all can study, be they poor or rich."
READ MORE
DONATE