"I found the best helping hands"
Pore Ghale is a 40 year old Nepalese man, who Kep and the Jesuit Prison Ministry team recently helped return home after being in the Immigration Detention Centre in Bangkok.
Before his time in immigration detention, Pore had spent 15 years in a Thai prison, during which time Kep and the team helped him keep body and spirit together. Pore's story is unique, but his hardship is common among those in Thai prisons. Growing up in a remote village in Nepal, Pore lived in extreme poverty. He lost his father when he was just 6 years old and his mother at 17. When Pore's mother passed away he moved to Kathmandu and got married, but he couldn't earn enough money to support his wife and newborn daughter. Without options and desperate to claw his way out of entrenched poverty he was inadvertently drawn into the transport of illegal goods by his brother-in-law in Thailand. He was caught, charged and sentenced to 15 years in a Thai prison, far from his home, his wife and his tiny daughter. Pore couldn't eat or sleep for worrying about his family – he'd only wanted to provide for them and now they would have to survive without him. Almost all the prisoners Kep and her team visit have stories that echo Pore's. Without basic human rights, desperate for opportunity to provide for their families, men and women living in extreme poverty are very vulnerable. Kep and the Jesuit Prison Ministry in Thailand offered Pore support, and helped him write to his wife and form a connection with his growing daughter. Pore never asked anything of Kep except that she help his daughter get an education so she could escape a life of poverty. Thanks to the generosity of donors, Pore's daughter Muna was able to go to school in Nepal while Pore was imprisoned, and is now a thriving, well-educated 16 year old. When Pore was finally released from prison, he wasn't yet free. He was immediately transported to the Immigration Detention Centre in Bangkok because he didn't have the appropriate papers for Thailand. Pore feared he would never return home or see his daughter again. He feared he'd have to live in the appalling conditions in Detention where he shared an unventilated 8 x 20m room with 130 men, who had been known to sleep in shifts because of the lack of floor space. Thankfully, Kep was once again there to offer kindness and support and she helped Pore organise visas for his return to Nepal and arranged his air ticket home. Pore's dream then came true when he was reunited with his family in Nepal, and he and his daughter Muna are now getting to know each other after such a long, difficult separation. Pore expressed his joy at being home and sent thanks to Jesuit Mission supporters in Australia:
"I am thankful to you all for helping me stand in front of my daughter as a proud father. I will do hard work. I wish to dedicate this life in the hands of God. I promise to become a better person … I was lost and alone as a young man, but I found the best helping hands. I consider myself lucky for having found them."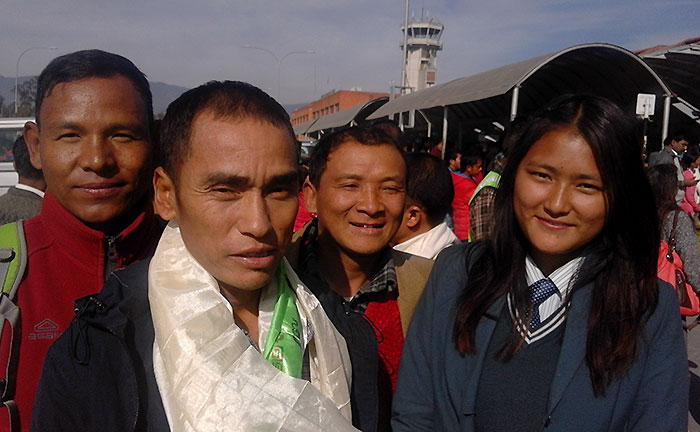 Pore was finally able to reunite with his daughter Muna in Nepal.
READ MORE
DONATE