Delivering water to Fatunero
Jesuit Mission supports projects that bring water to remote villages in Timor-Lesté
A Message from the heart
Please join CEO Helen Forde atop the mountain slope of suco Leorema in Liquiça, Timor-Lesté.
Last week, in late May 2019, I saw something unforgettable.
Without your amazing generosity it would never have happened.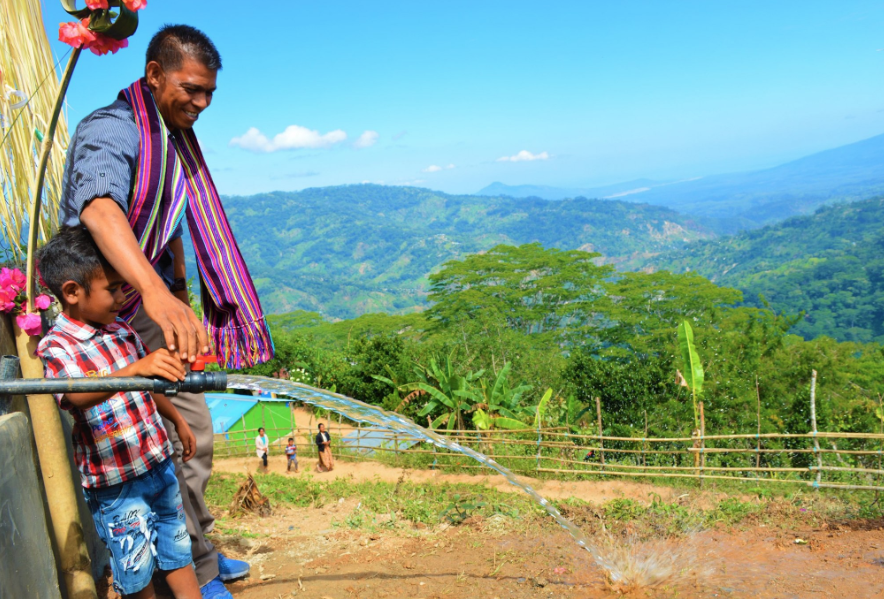 Above: A young boy has the honour of opening the tap at the inauguration ceremony.
Clean fresh water arrived for the first time at the remote community of Fatunero in Timor-Lesté. It was the result of your kindness come to life.
I was privileged to be present for the inauguration and blessing of the water system, and shared this experience with Jesuit Mission's Chair, Paul Levins, our Programs Manager Siobhan Jordan, Fr Joaquim Sarmento SJ (Regional Superior of Jesuits in Timor) pictured below presiding at the event, and on his left Fr Erik John Gerilla SJ, (the Executive Director of our partner on the ground Jesuit Social Service) and his team, plus of course the entire village!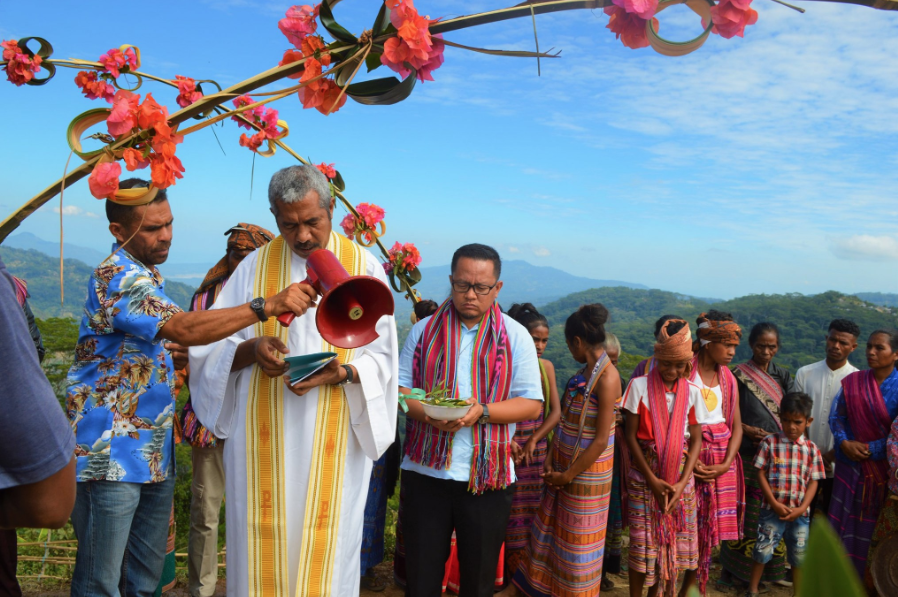 On their behalf, thank you for bringing the gift of water.
Your faith creating hope
For as long as anyone can remember, children in this village have spent hours bringing heavy containers of water from the bottom of the valley up 500m to their families. Now they can spend that time at school.
For their parents, it is a significant milestone. It marks a confident step forward towards hope after the dark times of Portuguese and Indonesian occupation which brought so much misery. Now the 93 households in this community can access water to cook, wash, take showers, water their plants and improve their crops.
The community is so grateful:
"Thank you to our benefactors and friends who were like small channels of spring water, joining together and supporting us throughout this long journey of making water accessible to the community."
Water carried like a baby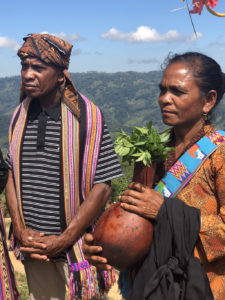 A woman representing all the women in the community tenderly carried a full jar of water from the source of the water on the valley floor, more than 500 meters below. She poured the jar into the large holding tank at the top of the hill, symbolically joining the water to its source and celebrating the new life in their midst that they are entrusted to nurture and protect.
How was this feat achieved?
Thanks to the technical expertise supported by our partner, and the hard work of local residents, several small channels of spring water were gathered into one huge tank (donated by a construction company) which serves as a reservoir. Then the water is pumped up 530 meters until it reaches the central tank in the middle of the village.
From the central tank, the water is distributed to ten smaller tanks, meaning it is only footseps, instead of hours, to access water.
All of this was achieved thanks to your kind support.