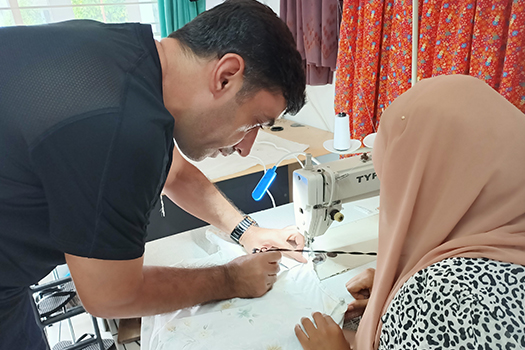 Refugee-led tailoring hub weaves resilience, empowers futures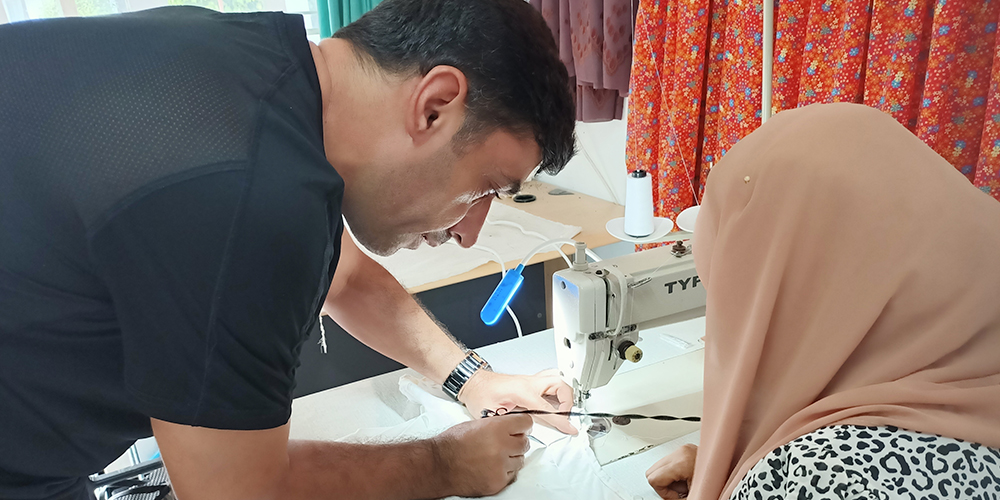 Ahmad, a refugee from Afghanistan, opened a tailor learning centre in Cisarua, Bogor that provides training and skills development for refugees interested in tailoring and garment-making.
Ahmad has experienced unimaginable pain and loss in his life. His whole family was killed by the Taliban, and he narrowly escaped death when a bullet hit him.
Despite all of this, Ahmad is determined to make a difference in the lives of his fellow refugees. With his experience in tailoring, Ahmad had the idea of creating a learning centre for refugees interested in garment-making.
He wanted to share his skills with others in the community and provide them with an opportunity to learn a trade that could help them secure a better future. The centre has three small rooms for English classes and offers basic tailoring skills, which may include training on using a sewing machine, measuring, and cutting fabrics, and creating basic garment patterns.
"At the beginning we had 15 students, offering classes only two days a week. But people kept coming, and now we have around 40 students, male, and female, from different countries (Afghanistan, Pakistan, Iraq, Ethiopia, Somalia, and Sudan), who speak different languages. We have several Indonesian students too, they live nearby." said Ahmad.
As word spread of the centre's success, more and more refugees flocked to enroll in his classes. Now the course has now grown to 40-60 people and is open for 6 days a week. Ahmad was thrilled to see the impact he was having on his community. The centre grew to become a thriving hub of activity, offering basic tailoring skills to dozens of students, many of whom were women.
Thanks to your support, Ahmad receives a monthly stipend to run the centre, materials, and rent through JRS Indonesia. The centre has a significant impact on the lives of refugees by providing them with valuable skills and training that can lead to better employment opportunities and increased self-sufficiency.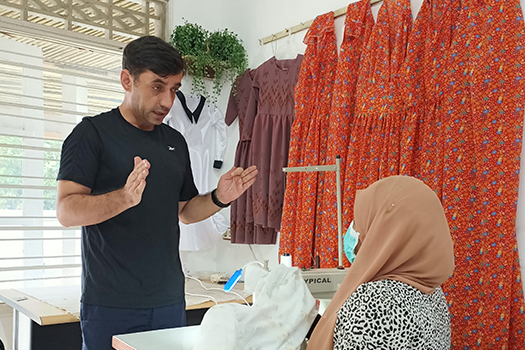 Despite the success of the center, Ahmad remains humble and is seeking ways to improve the lives of his students. He is looking to hire an English teacher and he is hoping to expand his program to include business skills as well.
"We are all here (in transit) waiting. Suffering. Till when? Nobody knows. Just accept it, it's our time to do good things, only good things. Some people choose to do nothing, just like I used to do. It's OK. But if you keep doing it, it won't make my life easy," said Ahmad.
The learning centre has become much more than just a place to learn garment-making. It is a community, providing a sense of belonging and psychosocial support for refugees struggling to adjust to their new lives. Ahmad has turned his tragedy into an opportunity to make a positive impact on the lives of others, and his community is all the better for it.
"I am happy to see other people happy, seeing the students busy studying. What I love the most about this place, is it has pulled together people from different countries. We don't care about the language barrier. When I see students come with gloomy faces, I make jokes, and they laugh." said Ahmad.
---