Creating change during retirement
Mary's retirement hasn't turned out quite as she first expected – and she is thrilled about it.
Retirement is often thought of as a time to relax, slow down and enjoy life. But then there are some very special and kind-hearted people like Mary who see this as something a little different. She considered it a time to give back to people in need.  Growing up in the Sydney suburb of Neutral Bay, Mary was always aware of Jesuit Mission in her community. She vividly remembers Jesuit Mission's annual fundraising event, the Indian Bazaar, held at St Ignatius' College, Riverview. "As a small child, it was very exciting," recalled Mary, "I visited the Indian Bazaar on and off many times over the years and became reacquainted with it as an adult – it's a wonderful event." After retiring from a career in education administration in 2007, Mary decided she'd like to get to know more about Jesuit Mission and generously volunteered to help at our head office in North Sydney. Nine years later Mary is a dear and valued member of our volunteer team. She comes in one day a week to cheerfully assist us with office administration, and each year she works as part of the committee that ensures the success of our Indian Bazaar. On top of all this, she often helps us out with extra days as a committed 'jack of all trades' who's willing to lend a hand wherever needed. Mary laughed when we spoke to her about how special she is to us -"I've had a great time! The staff at Jesuit Mission are wonderful. Everyone is welcoming and happy – it's a small office and such a happy place to work." Kind volunteers like Mary help Jesuit Mission keep administration costs down, so our funds can go where they're needed most for poor and vulnerable communities. Our volunteers are a vibrant and vital part of our Jesuit Mission community. We simply couldn't do the work we do without volunteers like Mary. Thank you, Mary!
"I've grown close to the other volunteers. It's a great social outlet and I've made great friends among the volunteers. I can't imagine retiring again – from Jesuit Mission!"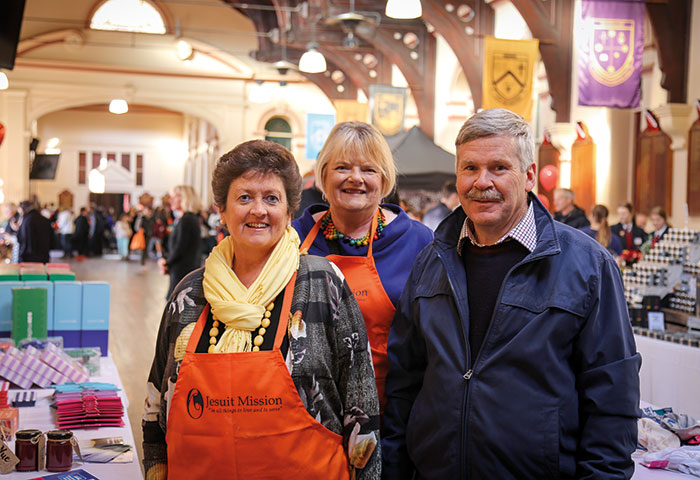 Mary (centre) with fellow volunteers at the Maytime Fair.