Earning just $5 a day as a labourer in rural Cambodia, Sophea's mother Mony simply couldn't afford to put food on the table and send her children to school. But thanks to the generosity of people like you, Sophea is now getting the education she deserves.
No family should have to choose between education and having enough food to eat. For us, living in Australia, it's almost unimaginable – education and food security are both human rights. But for a single-mother like Mony, education is a 'luxury' she simply can't afford for her children. With little education herself, Mony works as a day labourer in rural Cambodia.  She often travels great distances to find work and toils tirelessly in factories or on farms to earn just $5 a day. To send Sophea and her three siblings to a local government school would cost Mony $4 a day – 80% of the family's income. Without help, Mony simply can't afford to educate her children – and, she is not alone. Over 75% of students across Cambodia do not compete high school. The vast majority leave to start work and contribute to their family's survival. It's not uncommon to see children as young as 10 years old labouring on construction sites or farms. And, even if parents can afford to send their children to school, after years of war, the education system in Cambodia is so broken that most students finishing Grade 6 cannot read or write well.
Seeing the urgent need for affordable, quality education, our local partner Jesuit Service Cambodia took action.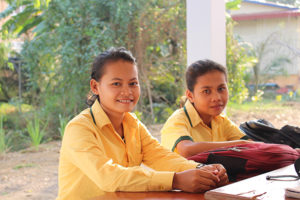 Led by Australian Jesuit Fr Quyen Vu SJ, the Xavier Jesuit School was founded in 2015 in one of the poorest provinces in Cambodia. Xavier Jesuit School strives to empower students, strengthening their hearts and minds so they can learn, grow and contribute to the new future of Cambodian society. Committed to serving the poorest of the poor, Xavier Jesuit School offers complete scholarships (including food, accommodation, tuition and expenses) for students who would otherwise miss out on an education – like Sophea, Mony's daughter. Seeking out the most vulnerable families, Jesuit Service Cambodia's Outreach team met Sophea when she was 15 years old, and working in a bottle factory alongside her mother.
Sophea received a scholarship to Xavier Jesuit School that's changed her life and her family's future.
When Sophea arrived at school she was several years older than her Year 7 classmates. She struggled with guilt about leaving her mother and younger siblings. But her mother Mony's vision is strong and, like Fr Quyen, she encourages Sophea to be brave and dream big.
"Our goal is to convince students that you sacrifice a few years now, but then you can help not only yourself, but your family. Education is the key to helping students out of their poverty. Without education they will become unskilled labourers. But if they have a dream, then they have a goal and a purpose. We try to help them dream big." 
Please help more young people living in poverty to get the education they deserve.
DONATE
Two years ago Sophea was working as an unskilled labourer. Now, she's thriving in Year 8 at Xavier Jesuit School and studying hard so she can achieve her dreams of developing a career that will support herself, her family and give back to her community.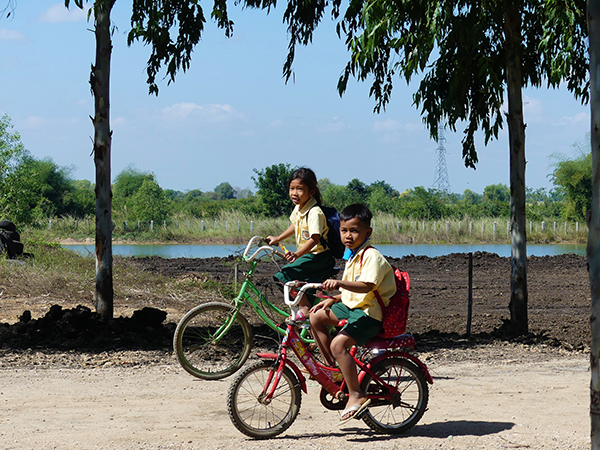 $113 provides a uniform and bicycle to get to school .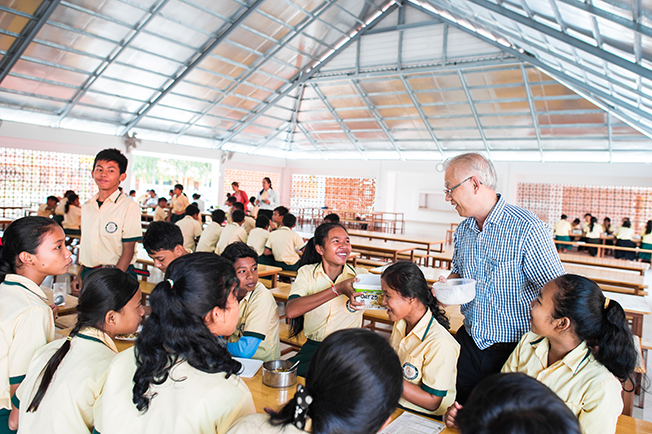 Fr Quyen sharing food with some of his students.
Your generosity can transform a young person's life.
Please, help scholarship students like Sophea receive vital support:
$74 provides nutritious meals and water for a scholarship student for 1 month.
$113 provides a uniform pack and a bicycle to get to school
$214 covers the cost of annual school fees for 1 student
$840 can provide books, bags and learning materials for a classroom for 1 year
$1,429 covers school fees and all living expenses for a scholarship student like Sophea for 1 year
DONATE
Please make your tax-deductible donation today.