The Digital Inclusion Program is opening up life-changing opportunities for disadvantaged young people confined to the Dzaleka Refugee Camp in Malawi.
"Since graduating the program, my life has changed completely. I am now able to support myself and my sister." Ingabire, Dzaleka Refugee Camp resident & graduate of the Digital Inclusion Program run by Jesuit Refugee Service (JRS) Malawi.
After her parents were brutally killed by soldiers, Ingabire and her sister fled the Congo and made their way to Dzaleka Refugee Camp in Malawi.
Determined not to let her past dictate her future, Ingabire enrolled in the innovative Digital Inclusion Program.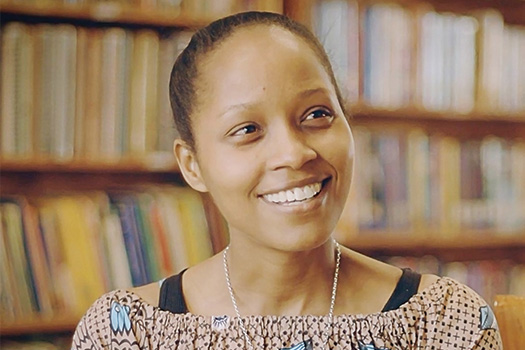 Watch the video below to hear Ingabire's story in her own words.
With your help we can empower more camp-bound refugees like Ingabire to step out of the margins and into the global workforce.
The Digital Inclusion Program run by our local partner JRS Malawi is having a life-changing impact for refugees and asylum seekers living at the Dzaleka Refugee Camp.
For Ingabire, the program has had an immediate and profound impact.
At just 13, Ingabire suffered the trauma of fleeing her family home in the Congo after soldiers killed her parents and burned down her home.
"That day we were playing outside. We saw soldiers coming. Then we heard a bullet. Soldiers came to our house and killed our parents. That's when I ran with my sister," says Ingabire.
"I can't say I had hope. I just moved."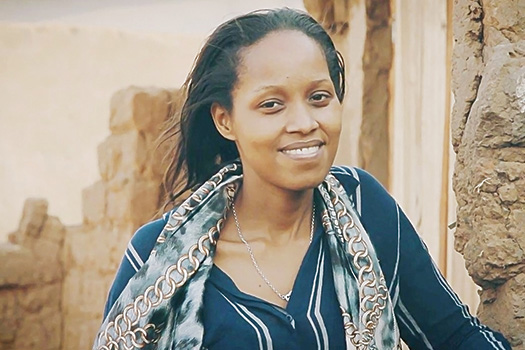 Ingabire and her sister fled to Malawi and joined over 50,000 refugees and asylum seekers at the Dzaleka Refugee Camp. Originally designed for 10,000 people, the camp is extremely overcrowded and provides only the most basic amenities.
The Malawi Government restricts movement outside the camp, making it almost impossible for people at Dzaleka to earn a living. As a result, 90% of residents are unemployed, living well below the poverty line and forced to rely on food rations.
For most, their stay at Dzaleka will be very long (more than 20 years). Continuing conflicts in their home countries mean refugees cannot make a safe return. At the same time settlement in new countries has been severely restricted due to the COVID-19 pandemic.
To help ease the burden of poverty and hopelessness, in 2019 JRS Malawi developed the Digital Inclusion Program to help camp-bound refugees generate immediate income and establish long-term livelihoods.
Taught by skilled professionals, the Digital Inclusion Program empowers young people with digital skills including data entry, translation, transcription and graphic design. Participants, like Ingabire, also learn communication and business skills so they can use platforms including Fiverr and Upwork to secure work in the global marketplace, unrestricted by their geographic location and refugee status.
"This program is rewriting the narrative of refugees," says Fr David Holdcroft SJ, JRS Education Specialist and Founder of the Digital Inclusion Program.
"Our graduates are now working and competing with the best in the world – they're no longer refuges when they're doing that."
Graduates like Ingabire, who previously had no opportunity to earn a livelihood, are now earning enough to buy food and essentials, improve their housing conditions and invest in items like bicycles to transport goods.
Will you help open up life-changing opportunities for disadvantaged young people confined to the Dzaleka Refugee Camp?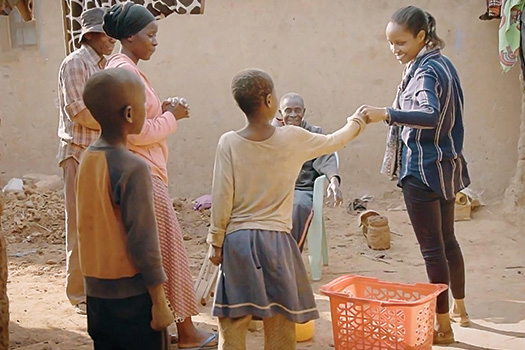 A gift today will help empower more young people through the Digital Inclusion Program.
DONATE NOW
Ingabire enrolled in the Digital Inclusion Program in 2020 and the moment she graduated her life began to transform. "That same day I finished the program - that same day I got a job," she says. "When I started working we got all that we dreamt of. I'm able to support my sister and myself."
Ingabire's online work includes translation, interpretation and voiceover projects. She especially enjoys the opportunity to interpret for refugees living in other countries.
While supporting her sister, Ingabire also helps others in Dzaleka, providing additional food, purchasing medication and passing on skills she learned at the Digital Inclusion Program so they too can work towards independence.
"Now I feel confident, I'm empowered and I have hope for the future," says Ingabire. "My dream is to be a woman who inspires and encourages others. That's all."
Please, help empower more of our vulnerable sisters and brothers enduring life in the Dzaleka camp with life-changing digital skills so they can create an independent future for themselves and their families.
Please, make your kind donation today.
DONATE NOW