Instituto de São João de Brito
After operating in temporary facilities for 2016 and 2017, the Instituto de São João de Brito (ISJB) has now moved into their new purpose-built campus and has a total of 111 students studying Degree and Diploma qualifications in secondary education.
Timor-Leste is Asia's youngest country and still one of Southeast Asia's poorest countries. Achieving independence over 16 years ago came at great cost for the Timorese with many people killed and displaced, many buildings, homes and schools severely damaged or destroyed, and the institutions and public services decimated. The country lost over 80% of its secondary teachers in its battle for independence.   Today, Timor-Leste has a very high youth population (over 61%) and high youth unemployment, 50% of the population still live in extreme poverty. Today, there are many teachers across the country without adequate qualifications and training to teach at a secondary level. The Jesuits in Timor are supporting the Timorese Government to reform the country's secondary education system.
Through the generous support of our Jesuit Mission family, including Australian Jesuit and Companion schools, the Jesuits in Timor-Leste have created and brought to life two major education institutions: an Institute for Secondary Teacher Education, Instituto de São João de Brito; and a secondary school
Colégio de Santo Inácio de Loiola (Loyola College)
. The two academic institutes are located directly adjacent to each other making practical teaching and observation sessions easy for students to partake in. In 2016, the teacher education institute (ISJB) accepted its first intake of trainee teachers. After operating in temporary locations for the first two years, in January 2018 the Teacher Education Institute moved into their newly constructed campus – a very exciting milestone for all! Today, 96 students, across three years, are completing Diploma or Degree programs with a major in teaching English, Portuguese or Religious Education. In 2019, Psychology and Sociology of Education will be added to the curriculum. The students come from all parts of Timor-Leste, which is critical to the success and long-term impact of the program. When the well-qualified teachers return home, they will lift the quality of education locally, and in-turn nationally.

During construction of Instituto de São João de Brito in Timor-Leste
Program details
Since the official ground-breaking ceremony in February 2017, construction of the new Institute progressed swiftly and the 2018 academic year for all students commenced in the new permanent home. The new campus has 12 classrooms; a custom-built library that will soon be filled with specialist secondary education books in the official Portuguese language, as well as many Tetum and English books. The computer and technology lab will open shortly, with a customised audio lab for language practice, listening and recording facilities, and translation training.
Enabled by the generosity of our supporters, we are proud that Jesuit Mission is one of the key partners of this paramount project.
The Jesuits in Timor have collaborated with the Ministry of Education, other Catholic schools and the education sector more broadly to ensure the curriculum and education programs meets the needs of the country. The Institute will form secondary school teachers who are competent, who can think deeply and critically, and who have a deep-seated understanding of the social, political and cultural contexts that shape schools in Timor-Leste.
Through exposure to current teaching in theology, moral theology, personal development and Ignatian Pedagogy, all graduates will be armed with the confidence and skills to accompany young Timorese on their own education and leadership journeys. Inspiring students to become men and women for others strongly underpins all facets of the teaching program.
Student fees are approximately US$400 per year, but this does not cover the actual costs of the program, so all students are on some type of scholarship.
Your support of this program will help train and support young Timorese teachers to become men and women for others.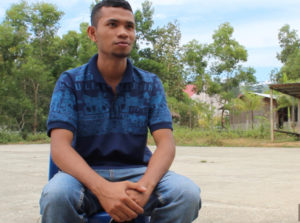 Jimmy's Story
Jimmy comes from the mountainous area of Railaco, a couple of hours south of ISJB. Like most of the farming families there, having the opportunity to educate their child is a breakthrough for his family. This breakthrough began when Jimmy was accepted into NOSSEF, the Jesuit-run senior school in Railaco township. After graduating high school there in 2014, he was able to further his studies by undertaking one year's study in formation under the Jesuits candidates program. Then in 2016 he was invited to join the inaugural class of the Instituto de São João de Brito (ISJB). Knowing how few teachers there were for the next generation, Jimmy, speaking for his classmates said,
 "We want to study at ISJB, we want to become teachers for the future"
The course was demanding, but Jimmy, realising his dream to attend university, persevered and passed all six subjects: moral theology, philosophy, environmental management, maths, plus Portugese and English languages. As young teacher trainees, Jimmy and his classmates visited CSIL, a Jesuit secondary school in Kasait and observed teaching techniques in the classroom. Despite the legacy of deprivation and trauma the Timorese people have endured, Jimmy and his fellow students are deeply motivated to contribute to the future of their country. Born to hardworking but illiterate parents, Jimmy is aware of the opportunities he has received. He appreciates the Ignatian values he has been taught, and wishes to share these with his future students.
 "In the class so you have to be patient and talk slowly for the student.  I like the Ignatian spirituality and contemplation.  It reflects how we teach our students"