Why this student volunteer stuck around
Jen came to us as a short-term volunteer, but she couldn't say goodbye just yet.
At Jesuit Mission, we are thankful for the many helping hands of volunteers. We simply couldn't survive without their support. And there's something extra encouraging about seeing a young high school student show a heart for volunteering. Recently, we saw this when Jen, a Year 11 Sydney student, contacted us to ask if she could help us as a volunteer. Jen was working towards the Duke of Edinburgh Award and needed to complete a short-term volunteer assignment. We set her up as a regular volunteer with Jesuit Mission in our national office. Not only were we grateful for the hard work she dedicated to us, it was also a privilege to share the 'behind the scenes' work that is vital to ensure our programs reach the world's most vulnerable communities.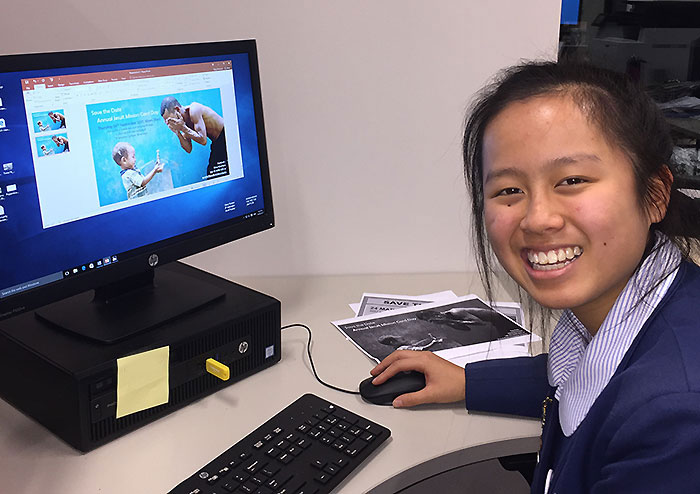 Jen volunteering at the Sydney Jesuit Mission office.
When Jen had completed her volunteering assignment, she told us she wanted us stay on as a volunteer. We were delighted! And when we asked her why she was interested in continuing her volunteer service, Jen gave us some lovely reflections on her time volunteering with us: "The great thing about volunteering for Jesuit Mission is that there is a variety of work to do - making presentations, designing event invitations, sorting event materials."
"I have been able to see the full force and impact that Catholic ministries have had in addressing social injustices. I have developed new skills and have been informed about the needs of marginalised communities on a global scale. I have learnt there are integral roles and operations involved in operating a national not-for-profit organisation. And the individuals in the Jesuit Mission office are friendly and great to work with!"
Thank you, Jen, for volunteering your time and skills. You're a valuable member of the team.