Footy boots for Cambodia
Year 7 student, Nathan, told us why he asked his classmates for their unwanted football boots. The answer blew us away.
Recently, we were very encouraged when Nathan, a Year 7 student from Watsonia showed incredible initiative and solidarity with students in Cambodia through his 'Footy Boots for Cambodia' project. Nathan told us, "It all started when one of my teachers, Mrs Devlin, came up with the idea of all the Xavier House students to email students at Xavier Jesuit School in Cambodia because they only recently received internet with an email address." Through the email 'pen pal' program with their sister school in Cambodia, the students built wonderful friendships and learned about each other's cultures. Nathan told his Cambodian friends all about Australian Rules Football. He was keen for them to experience the game firsthand but found out how difficult it was for them to get sports equipment.So Nathan came up with his idea – to collect unwanted football boots that his fellow students had outgrown and send them to his new friends in Cambodia. After rallying his fellow students at Loyola College Watsonia, as well as local schools and organisations, Nathan ended up collecting close to 100 pairs of boots! He made sure to mention his family's support and especially his grandmother's special effort to help him - "I want to thank my Nonni who helped scrub clean the majority of the boots." When we asked Nathan what inspired him to go to all this effort, he said:
"I feel good that I can try to make a difference in the world and change people's lives because students growing up in Cambodia are not as fortunate as us."
"This experience has taken me out of my comfort zone. It has been great to see the local community get together and help make a difference alongside me. Next year, Mrs Devlin will be travelling to the school in Cambodia and will be able to find out what else they need… If help is needed, I am happy to be involved!" It's great to see the solidarity between students from Australia and Cambodia. Thank you, Nathan, for being an outstanding role model of compassion and leadership!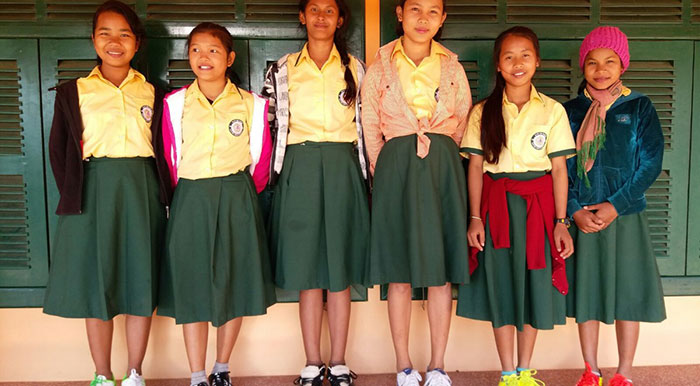 Students in Cambodia with the donated football boots. Credit: Xavier Jesuit School