How one gift helped a whole community
Long-term supporter, Michael, made an incredible gift which made clean water a reality for a poor community.
Sometimes a special opportunity comes up for a supporter to fund a project of their own. A while ago we published an article in our newsletter about a remote village in Timor-Leste suffering terrible conditions because they didn't have easy access to clean water. We mentioned the need to build a water-well for the community. To our surprise, we received a call from Michael, a long-term Jesuit Mission supporter, saying he'd like to fund the building of the entire water-well himself. We were so excited to hear his enthusiasm and generosity! Michael made a simple yet powerful point when he explained his generous decision:
"One of the things that drew me to the project is that water is really one of the most basic things of life. Nothing can happen without water… To me it felt like, I could do that, one well all on my own."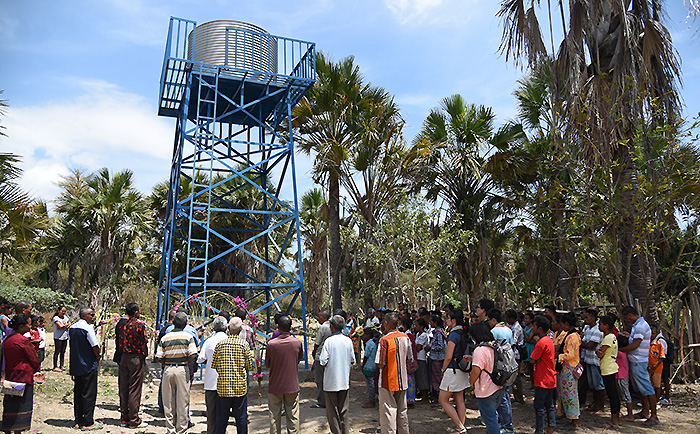 A community in Timor-Leste gathering to celebrate the opening of a new water tank.
Michael first had contact with the Jesuits (including our Rector, Fr Trung Nguyen SJ) back in 1990s when he volunteered in the Kimberleys for the Broome Diocese. After seeing marginalised communities firsthand, Michael was inspired to become a supporter of Jesuit Mission. Michael got right to work on his mission to fund the construction of the village water-well. As well as contributing personally, he asked his family and friends if they would commit to supporting the project - "A very big majority were more than happy to be involved in it. They could see the good in it."  Michael talks about his fundraising with excitement - "It's given new impetus to work. I think about it all the time. This money is doing a lot of good it's helping a lot of people. As long as I'm able to work, I'm just going to keep doing it." We are incredibly thankful when supporters like Michael make projects like this into reality. Through his generosity and dedication, there is a water-well in Timor-Leste providing a remote village with clean water. Thank you, Michael!